Southgate doubts threaten squad harmony
Words by Jamie Evans
Overview
The public mood around England took something of a nosedive during June's Nations League fixtures – four games that featured no wins, no goals from open play and two defeats to Hungary, the second of which was England's worst defeat on home soil since 1928.
Reaching the 2018 World Cup semi-finals and Euro 2020 final has increased expectations for Southgate and his side, while his critics continue to insist that Southgate's cautiousness is holding back one of the most talented generations of English players of all time.
Yet Southgate will not change. Indeed, June's poor performances – partly explained by an exhausted and heavily-rotated squad – will probably encourage him to double down on his belief that a solid, controlled approach is the best route to international success. Proving so with good results against Germany and Italy in September will be vital in restoring the confidence of both fans and players.
Tactics
England's implosion against Hungary – where two advanced midfielders started in a 4-3-3 – is likely to have increased Southgate's faith in the 3-4-3 formation that began the Euro 2020 final. The 4-2-3-1 shape used against Germany in Munich could be an alternative.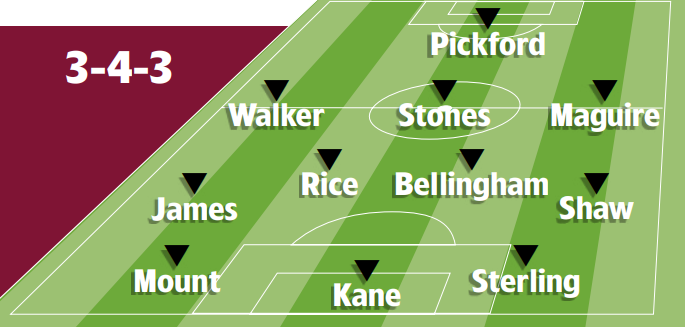 Star man
Harry Kane
The talismanic captain is on the verge of breaking England's all-time goal record. Top scorer at the last World Cup.
Coach
Gareth Southgate
Gareth Southgate A World Cup semi-final and silver medal at Euro 2020 has not been enough to protect Southgate from increasing pressure.
Talking points
What area is the biggest concern?
Defence. June's squad lacked a natural left-back, with Ben Chilwell and Luke Shaw both injured, while the other side had the opposite problem with five right-backs called up. In the centre, Harry Maguire remains simultaneously one of Southgate's most trusted lieutenants and one of England's most criticised players.
Can the attacking output improve?
Beyond the introduction of an extra attacker in a 4-2-3-1 formation, the inclusion of Jude Bellingham in England's midfield should offer a greater attacking threat than Kalvin Phillips. Fan favourite Jack Grealish has more flair than Mason Mount, but must "improve tactically" to nail his place in Southgate's XI.
Just how good is this England squad?
Clearly England have a lot of top players, some with the potential to be world class, but other than Harry Kane none are quite on that level yet. A well-organised unit is likely to be the foundation of any success, rather than individual performances.