Flawless in qualifying but doubts remain on the big stage
Words by John Duerden
Overview
It was almost a perfect qualification campaign for Saudi Arabia, as they cruised through the second-round group stage and then ended up winning the toughest group ahead of Japan and Australia in round three. Four wins out of four put the team in a great position, and they then showed their new mettle with a battling 0-0 draw in Sydney against the Socceroos.
There was a single hiccup, and loss, against Japan but the Green Falcons bounced back. Under French coach Herve Renard, there is a new intensity and belief about the team. After they qualified for Russia 2018 they went through three coaches before that humiliating 5-0 curtain-raising loss to Russia. They should be better organised, on and off the pitch, this time round.
There is still the issue that the squad is entirely domestic-based and while that does lead to a lack of international exposure, it helps with preparations and training camps.
Tactics
Under Renard, the team has graduated to a more patient, possession-based game but they are still able to get the ball forward quickly when necessary, with the full-backs especially bombing forward. Compared to Asia, they are likely to be more counter-attacking at the World Cup.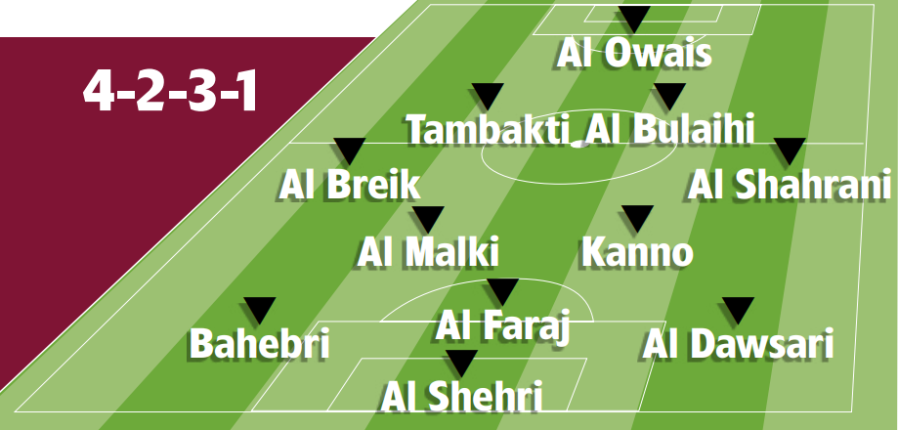 Star man
Salem Al Dawsari
The wideman has been perhaps the best Asian player in Asia over the past year or two. Often scores great goals.
Coach
Herve Renard 
Recently extended his deal to 2027 after breathing new life into the team. Made Saudi Arabia flexible, aggressive and confident.
Talking points
What about the lack of strikers?
In a league where all clubs import strikers from around the world, the fact that not much game-time is given to locals gives Renard few options up front. Most of his options don't get regular minutes at home and may not be that sharp in Qatar.
Will the absentees be available?
Defensive midfielder Abdulellah Al Malki tore his cruciate ligament in February and soon after striker Saleh Al Shehri did his Achilles tendon. Both are hoping to be fit but that remains to be seen. Midfielder Mohamed Kanno is currently suspended from club football after signing contracts with two different clubs and winger Fawad Al Muwallad is serving a doping ban.
Do the Saudis have enough belief?
The team burst onto the global stage in 1994, making it to the last 16, but they have only won one game in four visits since – and that was a dead rubber against Egypt in 2018. They often shine in Asia but lack experience against the South American and European teams.