Champions of South America – the world next?
Words by Joel Richards
Overview
The World Cup cannot come soon enough for Argentina. Unbeaten in the South American qualifiers, Copa America champions for the first time in 28 years and a 3-0 win over Italy in the Finalissima at Wembley – this is a side that is in form and high on confidence.
The generation that bore the burden of losing three major finals (2014 World Cup and two Copas America) has largely gone. Coach Lionel Scaloni, a surprise choice in 2018 given a total lack of coaching experience at the professional level, has rejuvenated a team that is still centered around Lionel Messi but features new stars including Lautaro Martinez, who averages a goal every other game under Scaloni.
In the process of putting together a 33-match unbeaten run that stretches back to 2019, there is a strong belief and spirit in the team and off-the-pitch camaraderie amongst the players.
Tactics
From striker-baiting Emiliano Martinez and fierce-tackling Cristian Romero to midfield general Rodrigo De Paul and the still-unstoppable Messi, Argentina boast industry, quality and character in all lines. The structure allows Messi to operate closer to the opposition's goal.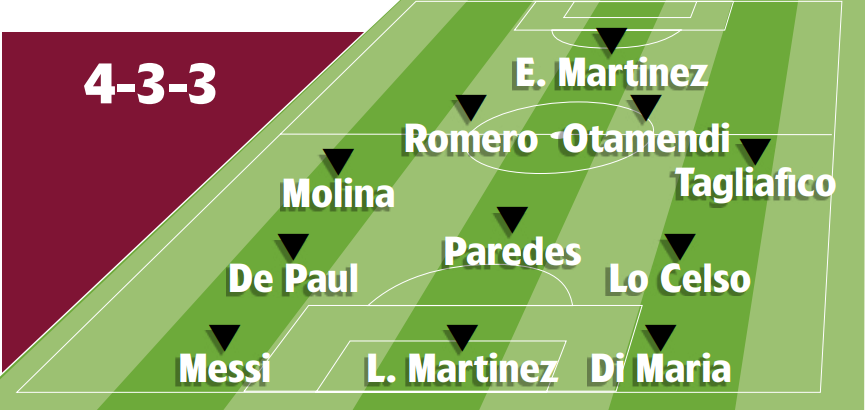 Star man 
Lionel Messi
Still, the country's best player, at 35 years of age will this be captain Messi's final shot at lifting the World Cup?
Coach
Lionel Scaloni
Despite no previous club or international experience, coach Scaloni has rebuilt a new Argentina and ended a 28-year title drought.
Talking points
How will Scaloni fine-tune the squad?
Scaloni largely has his starting XI decided, though Nicolas Tagliafico and  Marco Acuna still battle it out to be first-choice left-back. He will face difficult choices for the final squad – midfielders Alexis Mac Allister and Exequiel Palacios, as well as forwards Paulo Dybala, Angel Correa and Julian Alvarez are all vying for places.
Remember 2002?
Twenty years ago Argentina travelled to the World Cup as candidates for the title, only for Marcelo Bielsa's side to fall at the first hurdle in the groups. The challenge is managing the elevated expectation levels between now and November.
What next?
There is already speculation about whether Scaloni will stay on after the World Cup, which could affect things. Angel Di Maria has confirmed he will retire from the national team after the competition and Lionel Messi limited himself to saying "after the World Cup I am going to reconsider many things."