Eyeing number six
 A star-studded squad has Brazil's best chance of World Cup glory since 2002
Words by Tim Vickery
In the middle of last year, when Brazil lost a Copa America on home soil for the first time in their history, the whole Qatar endeavour seeming ill fated, destined to end, like all Brazil's World Cup campaigns since the 2002 triumph, as soon as they came up against a major western European side in the knockout stages.
Radically and quickly, the mood has changed. An exciting new array of attacking options has emerged. And the rise of the likes of Vinicius Junior, Raphinha, Antony, Richarlison, Gabriel Martinelli, et al, is undeniably beneficial for Neymar, the team's undoubted main star, whose international legacy hangs on what happens in November and December. Curiously, Neymar in Qatar will be almost exactly the same age as Pele when he stopped playing for Brazil. Pele, of course, left the scene having done it all. Neymar has it all to do, making it entirely positive that some of the attacking burden can be shared with the new breakout stars.
And the timing of the tournament may also work in his favour; Neymar has tended to be at his best, and most injury free, in the early months of the European season.
As ever in football, the star shines the brightest when the collective balance of the team is correct. This is the responsibility of Tite, the outstanding Brazilian coach of his generation and almost certainly a better coach for the experience of Russia 2018.
His team is extremely well balanced and, with more top-class goalkeepers and centre-backs than they can care to use, defensively rock solid. In 17 World Cup qualifiers they let in just five goals, and rarely looked like conceding. It is true, though, that they have seldom come under severe pressure.
And it is hard to predict one of the most interesting issues of the competition: how they will match up against the European heavyweights? A combination of the COVID-19 pandemic and the UEFA Nations League has thwarted Brazil's attempts to fix up meaningful friendlies. Since losing to Belgium in the 208 quarter-finals in Kazan, Brazil's only meeting with European opposition was a 3-1 win away to the Czech Republic in March 2019.
It is worth recalling that they were not far off in 2018. Brazil surely earned the right to take that thrilling quarter-final against the Belgians into extra-time. They look much stronger now – and if they peaked too soon in the road to Russia, their timing looks better in the build-up to Qatar. A giant nation is entitled to believe that the 20-year wait for title number six could be coming to an end.
THE VIEW FROM BRAZIL
"Brail have a solid and experienced defence, a midfield balanced between talent and strength, and an attack featuring top players with technical quality and intelligence. This is, of course, no guarantee of success. Expectations could be a problem."
Juninho Pernambucano, Former World Cup midfielder
"After a complete cycle in charge, Tite has deep knowledge of his players and how they can operate in a number of systems. The rise of new attackers gives grounds for enthusiasm, and Neymar appears well focused on a tournament that will do much to define his career.
Carlos Mansur, commentator, SporTV
COACH
TITE
Age 61 (25.05.61)
Appointed June 2016
Tite was an elegant midfielder forced into early retirement by a knee injury. Intelligent and charismatic, he is an admirer of Carlo Ancelotti. With the exception of the World Cup, he has won everything in his path, making his name when Gremio won the 2001 domestic cup, before claiming two league titles a Libertadores and the 2012 Club World Cup with Corinthians, plus the 2019 Copa America. Whatever the outcome he will step down after Qatar and likely take a break. But then, despite his initial reluctance, European football beckons.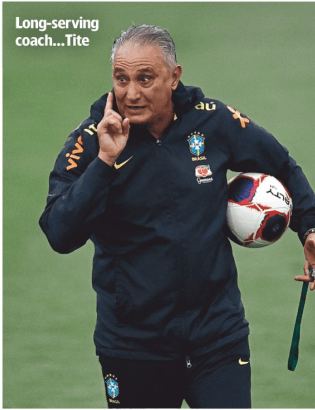 To read the rest of this preview, order our World Cup Special here