Turning to the diaspora
A weak squad has been boosted by the addition of several French-born players
Words by Mark Gleeson
The Indomitable Lions carry the distinction of being Africa's most frequent visitors to the World Cup and in Qatar are making their eighth tournament appearance, but this might be their weakest side yet.
That is quite some indictment, as there have been some relatively poor Cameroonian teams over the years, like in the United States in 1994 and South Africa in 2010. Hopes for a repeat of some of the heroics of Italia '90 are stretching the imagination somewhat.
Qualification for Cameroon was a fortuitous affair as they snatched a last-gasp extra-time win in Algeria in the second leg of their play-off tie in March to book their berth on the away goals rule.
Their win came some six weeks after the Africa Cup of Nations finals, which they hosted but failed to win, never providing anything near a performance of conviction.
A change of coach always looked inevitable thereafter, not only because they did not win the tournament but also because of a change of leadership at the head of the federation.
The Portuguese journeyman Toni Canceicao had been appointed by the previous regime but, once Samuel Eto'o won the elections towards the end of last year, change was inevitable.
Eto'o chose former team-mate Rigobert Song to take over the side, emphasising his long-held view as a player that Cameroon relied too often on scratchy foreign appointments when there was home talent available to lead the team. The jury, however, is out on Song; not only surrounding his coaching expertise and experience at the top level but also whether he will really call the shots, or Eto'o will make many of the key decisions himself.
Drawn in Group G, Cameroon need positive results in their opening two games against European pair Switzerland and Serbia before meeting five-time world champions Brazil in their last group game.
They have lost their previous seven matches at the finals, last winning a World Cup game 20 years ago in the tournament in Japan and South Korea when they edged Saudi Arabia by a lone Eto'o goal in Saitama. In the 2010 and 2014 finals they lost all of their group matches.
Like all the other African sides, Cameroon will be looking for late reinforcements via the diaspora, Eto'o toured several clubs in Europe speaking to prospective candidates and managed to persuade a number of payers to declare for the Lions, including Brentford attacker Bryan Mbeumo, a former France U21 international. The new faces will need to impress in a weak squad.
THE VIEW FROM CAMEROON
"I think Cameroon's chances depend on their opening game against Switzerland and how they do in that match. It is definitely one they can win with the players on both sides evenly matched. The second group game against Serbia will be harder, so to win the opener is essential for Cameroon"
Richard Naha, chief editor Afrikafoot.fr
"As the lowest-ranked team in the group Cameroon are the underdogs on paper, we must consider it is going to be difficult for them to get to the second round. But Cameroonians believe the tougher the task, the higher the ability of the team to rise to the occasion."'
Junior Binyam, media consultant
COACH
Rigobert SONG
Age 46 (01.07.76)
Appointed February 2022
Song is among Africa's most decorated footballers, competing at four World Cups and a record eight AFCON finals, winning two, as he amassed 137 caps for Cameroon. His playing career took in time in the Premier League (with Liverpool and West Ham United) and in Ligue 1, Serie A and the Bundesliga. But his coaching career has been restricted to the Cameroon Under-23 team, with whom he failed to qualify for the last Olympics in Tokyo. After being named new coach in February, he took charge of Cameroon's, decisive play-off qualifiers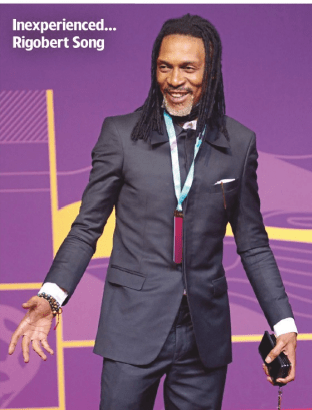 To read the rest of this preview, order our World Cup Special here