CONCACAF's form team after flying finish to qualifying
Words by Martin del Palacio Langer
Overview
After seven games in Concacaf World Cup qualifying, Costa Rica seemed hopeless. One win, three draws and three defeats (albeit against Mexico, USA and Canada) was the poor balance of an ageing and slow team. Since then, Luis Fernando Suarez's Los Ticos side have made an incredible transformation. An 11-match unbeaten streak, which included a revenge win over the USA and a draw with Mexico at the Estadio Azteca, saw them climb from seventh to fourth in the Concacaf standings, and then beat New Zealand in the inter-confederational play-offs to book their ticket to Qatar.
There was really no miraculous reason on the part of coach Suarez. It just took a few months of his stint for his players to understand what he wanted from them, and that, plus the returns of injured goalkeeper Keylor Navas and forward Joel Campbell, worked the Costa Rican turnaround.
Tactics
Suarez began his stint in charge looking to play with a back four, which he still maintains for certain moments, but in recent games the team has deployed a 5-4-1. Although more defensive, it allows them to take advantage of their speed on the wings and launch counter-attacks.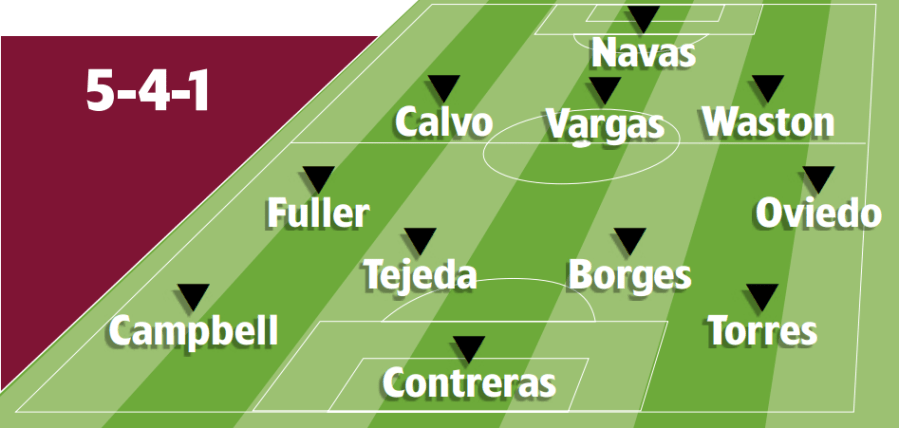 Star man
Keylor Navas
Winner of three Champions League titles with Real Madrid and today at PSG, he is the heart and soul of the team.
Coach
Luis Fernando Suarez
Qualified Ecuador for the World Cup in 2006, Honduras in 2014 and now Costa Rica when all seemed lost.
Talking points
Which new boys will shine?
The generational changeover has not been easy. The heroes of 2014 – Navas, Campbell, Oscar Duarte, Celso Borges, Francisco Calvo and Bryan Ruiz still provide the base. However, if they want to have a good World Cup, Costa Rica need new boys like winger Gerson Torres and striker Anthony Contreras to step up.
What will the team's tactics be?
Everything seems to indicate that, in a group with Germany and Spain, Suarez will play with a back five. The problem is that it is a very cautious system, and Los Ticos will hardly be able to generate any danger with only three men up front.
Will they renew the midfield? 
Costa Rica have some new young talent in defence and attack, but in midfield, there is still no renewal. The starters, Borges and Yeltsin Tejeda, are over 30 and the alternative is the even more veteran Ruiz. Defensive midfielder Orlando Galo looked good against the USA, but at 21 he still doesn't seem ready for a leading role.