Youth plus experience
Croatia's class of 2018 has been joined by a smattering of young, new squad members
Words by Zdravko Reic
Life under coach Zlatko Dalic got off to a near-perfect start for Croatia as they reached the World Cup finals in Russia less than a year after he took charge.
Since then his record has been mixed. They finished bottom of the group in the inaugural Nations League campaign – featuring a particularly painful 6-0 loss to Spain – managed only one win in six in the 2020-21 edition, then produced a disappointing performance at Euro 2020, despite losing to Spain in rather eye-catching fashion in the last 16.
Since securing his side's place in Qatar, Dalic has set about refreshing the side with some new, young players – Josko Gvardiol, Josip Sutalo, Martin Erlic and Josip Stanisic in defence and Luka Sucic in midfield – who according to the coach, "will keep Croatia at a high level for the next ten years."
It was certainly a team in need of refreshment. The excellent midfield led by Luka Modric and supported by Marcelo Brozovic, Mateo Kovacic and Ivan Perisic remains Croatia's strongest asset, but this will almost certainly be their final major tournament as a unit.
The early signs for this new-look team are encouraging. Croatia are unbeaten in five games, qualifying for the 2022-23 Nations League finals after topping a group featuring France, Denmark and Austria. Their target – as it has been at every major tournament since Euro '96 – will be to get through the group and then see what happens.
"We are a top national team and we have to behave and act like that," says Vedran Corluka, who was in the squad in 2018 and now serves as Dalic's assistant. "We are able to disrupt the plans of the strongest opponents."
That ability to compete with the best was demonstrated in June, when Croatia beat France 1-0 in Paris, their first-ever win against the world champions. It was a victory that boosted the confidence of the team, especially the young players. Moreover, it gave Dalic the strength to be ruthless in selecting his team. Only the most in-form players would be selected for Qatar, the coach insisted, regardless of their history with the national team. Stalwarts from 2018 like Domagoj Vida ( Beskitas to AEK) and Sime Vrsaljko (Athletico to Olympiakos) changed clubs in order to try to force their way into the side, although the latter retired from international duty in August. The same applied to Nikola Vlasic (West Ham to Torino), a key man for Croatia for the past three years, but getting little playing time in England.
The result is a squad featuring youth and experience, with competition across the board. For the younger players it will be an opportunity to grow and develop, while the veterans Brozovic, Perisic and Modric shoulder most of the responsibility. Croatia will not be among the World Cup favourites but neither were they at France '98 or in Russia in 2018. Dalic is hoping this team can spring yet another surprise.
A VIEW FROM CROATIA
"Croatia fans are not getting carried away, knowing that this team peaked in Russia four years ago. Croatia still has some fine midfielders but lack a world-class striker and the defence is struggling too. Still, I expect Croatia to progress to the knockout stages, which will probably be the end of the journey."
Drazen Kruselj, Jutarnji list 
"I expect Croatia to surprise the world again in Qatar. We have an excellent mis of experience and youth. The first match is very important, as victory brings peace and security. This is particularly important for the psychology of the young players at their first tournament."
Igor Stimac, former player and coach
COACH
Zlatko DALIC
Age 56 (26.10.66)
Appointed October 2017
Dalic faces the most difficult task of his tenure in Qatar: proving that this team is still capable of competing wit the elite of world football. That means not only making it out of the group but also upsetting the favourites in the knockout phase. Dalic inherited the team that came second in Russia in 2018, but now it is entirely his work and creation, featuring a combination of experienced players and young, emerging talents. His relationship with Luka Modric is vital; the captain acts as the manager's voice on the pitch and in the team's daily life.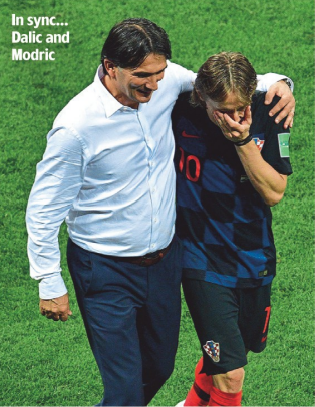 To read the rest of this preview, order our World Cup Special here