In it to win it
The Euro 2020 semi-finalists arrive in Qatar full of confidence after an impressive year
Words by Jim Holden
The question with Denmark at major international tournaments is usually whether to include them among the "dark horses" who might spring a surprise or two. You couldn't even call them "hopefuls" ahead of their triumph at the 1992 European Championship, because they didn't even qualify and were only emergency last-minute replacements.
This time it's different. Any rational assessment for this World Cup must rank Denmark "among the favourites". The Danes reaches the semi-finals of Euro 2020 last summer, and during their current Nations League campaign have won away to reigning world champions France. Their form has been simply too strong to disregard.
If you think that puts more pressure of the Danish team of Christian Eriksen and Kasper Schmeichel, too heavy a burden of expectation, well think again. First of all, Denmark is a small country of over five million people. They never travel with historic baggage of nations like England, Germany and Spain. Success is always a bonus, even when they know they have a fine national side.
Secondly, when a team has experienced the horror of its star player coming close to death on a football pitch, they understand that pressure is far from the correct word to use about the possibility of winning a football event. The memory of what happened to Eriksen last year may inspire and motivate the Danes, but it will also keep sport in its proper context.
There is already immense joy merely in the prospect of seeing Eriksen stride out alongside his team-mates for the first match against Tunisia. His return to the elite game after recovery from the trauma of cardiac arrest has been one of the most incredible football stories of our time.
Denmark played well and prospered when Eriksen was sidelined, qualifying for the World Cup in record-breaking fashion with nine straight wins. They are even better team with the reintroduction of his creative genius. The group-stage draw has been relatively kind, and they should progress from a a selection involving France, Tunisia and Australia. It would be something of a surprise if they didn't.
How far they might go beyond that will depend on the vagaries of tournament football – injuries suspensions, the form of key players and the way the draw pans out. What you can be sure of, though, is that Denmark will not lack the basic requirements of a strong team ethic, an unbreakable collective spirit and intelligent panic-free leadership
THE VIEW FROM DENMARK
"It's fantastic for the football world to see Christian Eriksen back with the national team. He is a great talent and makes a difference to any side he plays for. His presence will help to make Denmark strong challengers in Qatar."
Frank Arnesen, former Danish international and sporting director of Feyenoord
" The thing about this tournament is that there isn't too much difference between the top teams. Denmark are one of those sides and it means we should dream big- that we can win. I think it's possible, but of course it will be very difficult.
Preben Elkjaer, former Danish international and Tv pundit
COACH
Kasper HJULMAND
Age 50 (09.04.72)
Appointed August 2020
Made his name winning the Danish Superliga title in 2012 with provincial club Nordsjaelland and now has been in charge of Denmark for two years leading them to the semi-finals of the European championship in the summer of 2021. His 67 percent win ratio (22 victories in 33 matches) are the statistics of an elite manager, but his calm nature, inclusive style and flexible tactics are just as impressive. The exemplary leadership he showed during the Christian Eriksen trauma has forged a unique bond with the players of the Danish squad.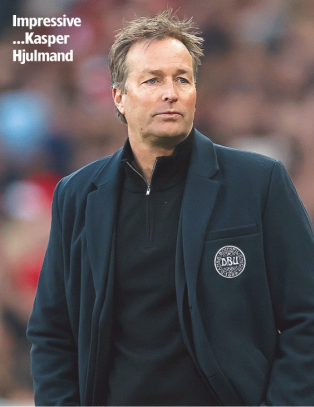 To read the rest of this preview, order our World Cup Special here