Favourites fading
England's hopes of silverware have faded during a difficult 2022 – but don't rule them out yet
Words by Jamie Evans
Semi-finalists in the 2018 World Cup and runners-up at last year's European Championship, England should be going to Qatar full of confidence, prepared to take the final step to silverware. Yet the road to this year's finals has been littered with struggles.
Six games without a win, five without a goal from open play and a disastrous Nations League campaign that ended in relegation from the top league have created the first serious low point of Gareth Southgate's six-year tenure.
But it's not all bad. A quick glance around the rest of the UEFA Nations League shows that England are not the only major European team to have struggled their way through a debilitating schedule. Four games in June was a particularly unwelcome prospect for players coming to the end of a long season, but spirits and energy levels will be higher for a major tournament.
A World Cup in Qatar should also allow the squad to cocoon themselves from criticism, with fans not expected to travel in huge numbers. Moreover, England's Group B opponents represent a drop in quality compared with the rests they have faced this year; one of the features of the Nations League is that top sides no longer go into tournaments off the back of long unbeaten runs against inferior opponents in qualifying. Games against Wales and the United States will be huge emotional tests for England but, on paper at least, they will be favourites.
A 3-3 draw with Germany at Wembley – England's final match before the finals – provided a welcome boost. The Three Lions demonstrated an ability to create chances within Southgate's 3-4-3 formation, as their long run without a goal from open play was finally brought to an end by Luke Shaw and Mason Mount. It was a result that helped restore a little faith in Southgate's England, although doubts still hang over the England boss in the minds of many fans.
Yet there is good reason to keep faith with Southgate's approach. It is often said this is England's best squad in the last 30 years, yet there is no world-class centre-back at the level of John Terry or Rio Ferdinand and no midfielders comparable with Steven Gerrard or Frank Lampard, while Harry Kane is the only top-class striker – in the 1990s England arguably had five or six. This is a very good generation of English players, with plenty of technical ability, potential and depth in certain areas. But their best chance of success remains a well-oiled system and a controlled approach. Major tournaments are rarely won by the most expansive sides – a fact that Southgate knows only too well.
Jamie Evans
A VIEW FROM ENGLAND
"England are in the top five or six teams and have a chance of going far, but I think they will fall short of winning. They are weak at left-back and in midfield, where Bellingham and Rice are fantastic but inexperienced. They also lack depth in attack; Kane is the key man and without his goals, England will struggle."
Jamie Carragher. ex-England defender
"After six years of Southgate's steady guidance, England go to Qatar on the back of one of their worst-ever runs. But many big nations also struggled with the unusual build up – it's possible they need the intensity of a World Cup to sharpen them. Southgate has the pieces in place."
Miguel Delaney, The Independent
COACH
Gareth SOUTHGATE
Age 52 (03.09.70)
Appointed September 2016
For a man with such an impressive record at back-to-back tournaments with England, Gareth Southgate remains remarkably divisive. His critics claim he has been blessed with relatively easy runs to the 2018 World Cup semi-final and Euro 2020 final, and that this exciting generation of English talent has been stifled by his tactics. These are not new doubts, but the stuttering form of 2022 has given them volume. Southgate must find a way to lift the mood of the players and fans if he is to remain in post until his contract ends in 2024.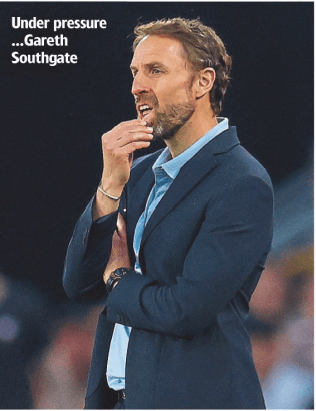 To read the rest of this preview, order our World Cup Special here