Same old France?
A team packed with talent could be undermined by squad disharmony
Words by Adam White
Patrice Evra's public altercation with a fitness coach, the players refusing to leave the team bus and Raymond Domench's bizarre statement to the press make the 2010 World Cup in South Africa just as memorable in France as some of Les Bleus' triumphs, as a fractious squad collapsed, limply bowing out at the group stage in total chaos. Since taking charge of the French national team in July 2012, coach Didier Deschamps has looked to avoid similar in-fighting by placing squad harmony above all else, but divisions may now be forming.
Reports of an extortion attempt on Paul Pogba by an organised gang, which threw up allegations of a witch doctor "curse" on Kylian Mbappe, gripped France earlier. Regardless of the story's level of truth and Mbappe publicly accepting Pogba's version of events – "I prefer to trust the word of a team-mate" – relations between two prominent personalities will surely be strained.
Despite Pogba's absence from the squad through injury, the atmosphere remains tense regardless, with Mbappe's growing self-importance at his club Paris Saint-Germain. Scandals and inflated egos have long troubled the French national team – how star strikers Karim Benzema and Mbappe, for example, combine after Mbappe drastically rejected Real Madrid's advances last summer could become one of many troublesome subplots. Deschamps, it seems, is already firefighting.
Deschamps still boasts one of the tournament's deepest squads, however, and France will remain a favourite for the title as emerging talent alleviates concern over an ageing spine. Aurelien Tchouameni's €80m move to Real Madrid could soon prove a bargain; there are few more exciting left-backs in Europe than the rampaging Theo Hernandez, while William Saliba and Jules Kounde are potentially world-class centre-backs. All started the season 24 years old or under and all are potential difference makers in Qatar this winter.
However, Deschamps has struggled to replace midfielder Blaise Matuidi, a ruthlessly efficient operator on both sides of the ball and absolutely pivotal to his asymmetrical 2018 World Cup – winning system. Adrien Rabiot isn't a reliable successor and the likely switch to a 3-4-1-2 formation is as much designed to cover for Matuidi's absence as it is to fit the make-up and personnel of the current squad.
Les Bleus' future is still undoubtedly bright, but Deschamps is spending the present attempting to avoid repeating a fractious past. Another implosion is more than possible.
THE VIEW FROM FRANCE
"France are approaching this World Cup with a lot of uncertainties. Les Bleus were poor in June, there's the Pogba situation, Griezmann's issue and injuries. But France have so much talent at their disposal. No team has retained the World Cup since Brazil in 1962 and the French, maybe against the odds, believe they can do it."
Julien Laurens, ESPN and RMC 
"Undoubtedly France have the necessary talent, but 2018's winning chemistry feels irreversibly broken. This could be Didier Deschamps' final major tournament as coach, as Zinedine Zidane waits in the wings, and there are big decisions to make over previously key personnel."
Jonathan Johnson, CBS
COACH
Didier DESCHAMPS 
Age 54 (15.10.68)
Appointed July 2012
Despite triumph at Russia 2018 and an impressive UEFA Nations League win last year, many in France remain sniffy over Deschamps' coaching. In spite of a more positive approach recently, Deschamps' pragmatic style- far removed from the Champagne football of Michel Platini or Raymond Kopa's eras – and a haughty media branding him as uncomplicated, means respect for Deschamps' success is only begrudging. More than a decade in charge has led to questions over his future, regardless of results in Qatar.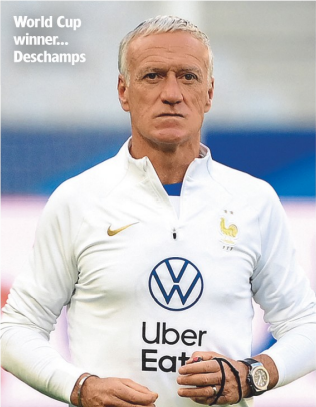 To read the rest of this preview, order our World Cup Special here