No pressure
Poor performances in 2018 and 2020 mean Germany go to Qatar with few expectations
Words by Nick Bidwell
"We must have a vision before our eyes that is to be world champions in 2022." Does the Nationalmannschaft have a realistic chance of living up to the upbeat rhetoric of goalkeeper and skipper Manuel Neuer?
Ostensibly, a fifth global crown is most unlikely. After their disastrous efforts at World Cup 2018 and Euro 2020, there is simply too much rebuilding work to do, and as proven by a skittish string of draws in the UEFA Nations League this summer, the current German national team still is lacking in vital areas, not least in its profligacy in front of goal and inconsistency over 90 minutes. In contrast to many triumphant German sides of the past, they have little or no killer instinct.
That is not to say that new Bundestrainer Hansi Flick has been flatlining since taking over from long-serving predecessor Joachim Low in August 2021. The air of decay and disenchantment which was prevalent in the final few years of the Low regime has now dissipated. The current atmosphere in the camp is much more buoyant. Indeed in Flick's first 13 games in charge, not one of them ended in defeat.
As they proved during their thrilling 5-2 thumping of European champions Italy in Monchengladbach in the Nations League in June, when Flick's side attack with high intensity and tempo, they pose a real threat.
For once, Germany will be going into a World Cup largely unburdened by expectations. No fewer than seven major tournament victories (14 final appearances in total) tends to breed a sense of entitlement and complacency. Fortunately, such barriers to success will not come into play this time around. Flick is an excellent motivator. He will have his charges chomping at the bit to restore Germany's lustre.
The German Class of 2022 boasts numerous proven winners. At least nine of their possible squad knows what it takes to win a Champions League. This know-how cannot be underestimated. Much of Flick's challenge lies in finding the right blend. Not only in identifying the best mixture of youth and experience, but also building the strongest possible composite from Germany's two biggest clubs, Bayern Munich and Borussia Dortmund.
THE VIEW FROM GERMANY
"We're one of the favourites to be world champions. Hansi Flick has created a new positive atmosphere, a cohesive spirit. He's honest, open and looks to communicate with the players.He's given the squad renewed self-confidence. In the Bayern players and our overseas-based men, we have guys who can make the difference."
Lothar Matthaus, ex-Germany captain
" Our biggest short coming hasn't changed. We don't have a genuine centre-forward. I rate Hansi Flick as a coach; he did a great job at Bayern. But without a proper striker it will be difficult. All the strongest teams have a real taker of chances up front, a Harry Kane or a Romelu Lukaku."
Klaus Fischer ex-West Germany striker
COACH
Hansi FLICK
Age 57 (24.02.65)
Appointed August 2021
Flick was Joachim Low's trusts right-hand man for eight years from 2006-2014. A resoundingly successful two-year spell in charge of Bayern Munich, where he won seven major trophies after being promoted from assistant coach to interim coach in November 2019, proved the perfect audition ahead of landing Germany's top job. Not one for grandiose tactical experiements, Flick instead earns his corn from astute, rational team building, a bold, pro-active approach and excellent man management skills.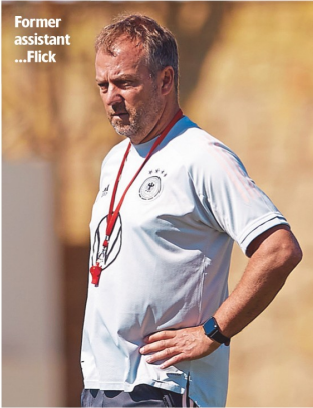 To read the rest of this preview, order our World Cup Special here