Carlos' comeback
Carlos Queiroz returns to Iran job hoping to restore some calm to a chaotic build-up
Words by Adel Ferdowsipour
In the end, history, as is often said, repeated itself. Just over 1300 days after a bitter end to his previous tenure as Iran's manager, Carlos Quieroz is back and bound to represent Team Melli for the third consecutive World Cup.
On paper, participating in only their sixth-ever World Cup, in  a nearby country that is Qatar, should be a mouth-watering prospect for Iranians. However, the mood in Iran has been anything but buoyant with anticipation in recent months. Poor preparations, the precarious position of the former coach, lack of unity among players and a leadership void in the football federation were already sources of huge concern before the protests in September took the limelight away from the upcoming World Cup within the country.
Earlier in 2022, and after securing a straightforward qualification for Qatar, Iran's former coach Dragan Skocic presumed his position at the World Cup to be all but secured. However, a disappointing defeat against South Korea in the penultimate match of the qualifiers, followed by a loss to Algeria in a friendly and the ever-increasing stories of disarray in the preparation camp in Doha put the Croatian coach under immense pressure. Some players openly declared their support for the coach, but a few senior members of the squad refrained from doing so.
Later in July, the Iranian federation's technical committee decided Skocic was no longer suitable for the role. Suddenly, a new wave seemingly driven by political intentions emerged and called for an Iranian coach to lead the national team against England and the United States in Qatar. After all, the turbulent relationship between the countries over the past four decades meant that these encounters would be anything but an ordinary football match to some people in Iran. It took Iran's football federation six days to overrule the technical committee's decision and reinstate Skocic on July 1. Just over a month later, in came newly-elected president of the football federation, Mehdi Taj who then immediately dismissed Skocic and brought Carlos Queiroz back only 74 days before the World Cup. Chaos? Crisis? Confusion? Label it what you like but write them off at your peril. Iranian players response to challenges and being the underdog might surprise many. Despite all the adversities, the best-ranked team in Asia has reasons for optimism too. The dazzling Mehdi Taremi, who has been at the peak of his powers in the past couple of years in Porto, forms a lethal partnership up front with Bayer Leverkusen's Sadar Azmoun, who has 41 goals to his name in the national team's colours.
In the past two World Cups under Queiroz, Iran have displayed resilience and character against top sides like Argentina, Spain and Portugal. Four years ago, they were merely inches from winning the group when the ball fell into Taremi's path in the dying seconds versus Portugal but ultimately it wasn't meant to be. That said, Team Melli still faces a daunting challenge in Qatar, and qualification from the group will be deemed a glorious achievement .
THE VIEW FROM IRAN
"The current squad includes a number of players who are or who had been playing in European leagues. I believe it will be a mental boost in the upcoming tough matches. I think this Iran team can head into the competition without any fear or nerves and that is a huge advantage for us compared to the past few editions."
Masoud Shojaei, ex-Iran international
"Most players played at Russia 2018 and they are led by a manager who will be at his fourth World Cup. Iran have come on leaps and bounds in the attacking phase. This is the best generation of Iranian football in terms of offensive qualities, and that will be a potent weapon."
Javad Nekounam, Iran's record caps holder
COACH
Carlos QUIEROZ 
Age 69 (01.03.53)
Appointed September 2022
Despite qualifying for World Cup 2002 with South Africa, Carlos Queiroz did not lead Bafana Bafana in Japan and South Korea. However, he is set for his fourth World Cup appearance after managing Portugal in 2010 and Iran the previous two finals. His less successful managerial tenures include being at the helm of Real Madrid from 2003-04 and failing to qualify both Colombia (2019-20) and Egypt (2021-22) for the Qatar finals. His new contract as Iran head coach is short-term and only valid until the end of the upcoming World Cup.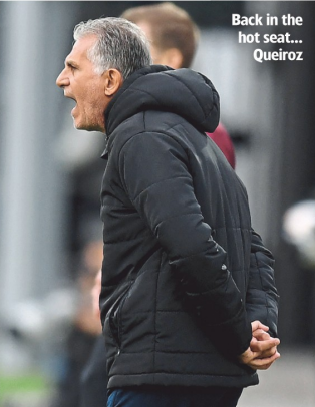 To read the rest of this preview, order our World Cup Special here