Rolling the dice
Morrocco have taken a gamble by replacing the coach that qualified them for the finals
Words by Mark Gleeson 
Morocco fired their coach a matter of months before the World Cup kick-off and are banking on new boss Walid Regragui injecting some positive energy into a side who have an increasingly consistent history of flattering to deceive.
Over the last decade, Morocco have looked impressive in qualifying only to flop at the tournament level, be it the World Cup or Africa Cup of Nations, where they remain without a continental title since their sole success in 1976.
The constant conveyor belt that rolls out Moroccan playing talent has provided a consistently high standard of players to select from but galvanising them all into a cohesive unit is a task that has eluded past coaches. The North African country is increasingly unique in pulling together a squad that, although bound by a common heritage, is made up of players from many different European countries and often with little else in common. Many from the diaspora struggle with Arabic and French, Morocco's two most commonly-spoken languages, and the resultant chasms in the squad have proven problematic in the past.
The current squad, for instance, has players born in the Netherlands, France, Belgium, Canada and Spain – countries all with a large Moroccan migrant community.
New coach Regragui takes over from the experience and taciturn Bosnian Vahid Halilhodzic, who was fired after a lengthy stand-off with Hakim Ziyech that put him at odds with the Morocco football federation, under persistent public pressure from both supporters and the media to bring back the mercurial Chelsea attacker.
It is somewhat ironic then that with Ziyech's return to the fold and near-certain inclusion in the squad for Qatar, it comes a time where the winger is hardly featuring at club level and unlikely to prove as effective as populist opinion thought he would be.
This is not Ziyech's first run-in with a national team manager. The Dutch-born player was left out of Morocco's 2017 Africa Cup of Nations squad by Herve Renard before the pair patched things up ahead of the 2018 World Cup. However Ziyech's contribution in Russia was negligible – as was the Atlas Lions' team performances overall as they disappointingly finished rock bottom of a group containing Spain, Portugal and Iran.
Morocco will be making their sixth World Cup appearance but have won only twice in 16 games at the finals – the groundbreaking victory over Portugal in Mexico in 1986 where they won their group ahead of England and ran West Germany close in the round if 16 and their 3-0 victory over Scotland in 1998, which was not quite enough to see them past the first phase. Morocco were the only team in Africa who won all six of their group games in qualifying- although in a bizarre twist played them all at home- and cruised through their play-off tie against the Democratic Republic of Congo, winning 5-2 on aggregate. Now, though is the time for the Atlas Lions to finally deliver on their promise and perform at a major finals.
THE VIEW FROM MOROCCO
"Qualifying for the second round would be a tremendous achievement taking into account the toughness of Group . The sacking of Halilhodzic could trigger a new spirit among the players, knowing that new coach Regragui is a part of the biggest achievement of Morocco in this century, reaching the 2004 AFCON finals."
Amine El Amri, sports journalist, Le matin
"It is true that the Moroccan team finds itself in an iron group with Belgium, the fascinating team of Croatia and Canada, but there is hope they can progress the presence of several radiant lions in Europe, such as Ziyech and Hakimi, and with the arrival of the new coach."
Badredddine Drissi, editor, Almountakhab
COACH
Walid REGRAGUI
Age 47 (23.09.75)
Appointed August 2022
Regragui played for Morocco, notably at right-back in the 2004 Cup of Nations final where they lost to Tunisia. It was their best performance for almost two decades and they have not been as close to silverware since. Popular in the country, Regragui comes into the job on the back of taking Wydad Casablanca to the African Champions League crown in May in a much savoured final win over the powerful Al Ahly of Eygpt. His playing experience came in both Ligue 1 and La liga and as coach he has worked in Qatar previously.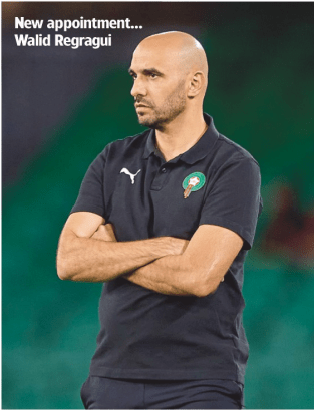 To read the rest of this preview, order our World Cup Special here