Louis' last hurrah
Louis van Gaal prepares for his second World Cup in his third spell in charge of the Netherlands
Words by Klaas-Jan Droppert
It's the biggest platform but Louis van Gaal would have preferred a different setting for his farewell tour. The 71-year-old coach has been a fierce critic of hosting the World Cup in Qatar, and wore his heart on his sleeve when asked for his opinion on the subject earlier this year. "It is ridiculous. We are playing in a country where FIFA says they want to help develop football. That is bulls**t. But it doesn't matter. The tournament in Qatar is about money and commercial interest. That it what matters to FIFA."
Having said that, there are many other reasons – apart from the commercial aspects and, of course, the human rights conditions – as to why staging a World Cup in Qatar has proven so controversial. And those concern the heat, the date in the middle of the season and the very limited preparation time.
It all means that the former Champions League winner has had to switch to a different approach than he is used to. Van Gaal is the type of coach to grind the tactics into his team and therefore he needs time, But time isn't on his side for this unique tournament.
Another aspect of Van Gaal's methods has been rendered totally useless. In his philosophy, fitness and rhythm are main ingredients to build a successful team. Several times in the past he has opted for surprise inclusions instead of picking household names who gained limited playing time at their clubs. However, looking at the state of his squad that is a problem. Memphis Depay and Frenkie De Jong are simply irreplaceable as there are no suitable alternatives. Yet their playing time at Barcelona has been restricted. Both stayed despite being heavily linked with summer transfers, and they risk being out of form and lacking match practice when the World Cup kicks off. On the domestic scene there is the same problem. Davy Klaassen, crucial in Van Gaal's team, is now only a reserve at Ajax.
Despite their difficult situation, Van Gaal simply can't afford to leave them at home and must turn a blind eye to his philosophy, although he did give Georginio Wijnaldum a warning to get more playing time. The midfielder promptly traded Paris Saint-Germain for Roma, only to break his Shinbone and leave his World Cup hopes in jeopardy. Despite the setbacks, the draw has been kind to Oranje – providing they don't make the same mistake against Senegal in their opener as France did in 2002 – and Van Gaal has vast experience to repeat his success at the 2014 World Cup when the Dutch finished third.
Considering he is suffering from prostate cancer; a similar result would be an appropriate last hurrah for a man who has made a massive impact on Dutch football and beyond.
THE VIEW FROM NETHERLANDS
"Senegal are strong but Ecuador and hosts Qatar shouldn't be a problem. If Netherlands and England win their group they avoid each other. The disadvantage is to start the tournament immediately. On the other hand, Group A has a favourable playing scheme in terms of rest days."
Maarten Wiffels, sports journalist Algemeen Dagblad 
"To stand a chance you need a good goalkeeper, which we don't have. Van Dijk, Frenkie de Jong, De Vrij and Depay should rise above themselves. And the others, players like Koopmeiners, should be performing at their very best. Only then is something possible."
Rene van der Gijp, former international
COACH
Louis VAN GAAL
Age 71 (08.08.51)
Appointed August 2021
Following a disappointing Euro 2020 campaign under former coach Frank de Boer, the Dutch Fa turned to the only man they trusted to steady the ship: Louis van Gaa. He is now in his third term as Oranje head coac h- following previous spells in charge in 2000-02 and 2012-14- and after guiding the team through qualification for Qatar he will finish the job at the World Cup, despite this year revealing he is suffering from prostate cancer. It has already been announced that Ronald Koeman will succeed him after the tournament.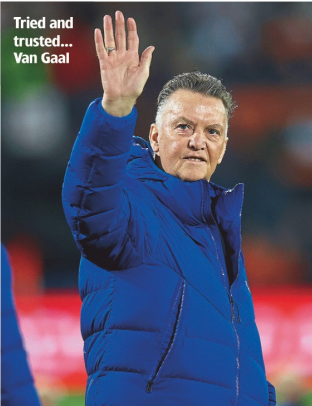 To read the rest of this preview, order our World Cup Special here