Rank outsiders
The Saudis cruised through qualifying, yet still make the short trip to Qatar as underdogs
Words by John Duerden
Having started the 2018 World Cup by losing 5-0 to Russia then ending it with a 2-1 victory over Egypt, the Green Falcons have since become Asia's most improved team. It all changed when Herve Renard took over in 2019. In qualification, Saudi Arabia were the best performers though they started a little slowly in the preliminary round three years ago. They emerged from the pandemic looking stronger and when the action finally resumed, moved up the gears and moved into the final round. Twelver points came from their first four games, including an impressive 1-0 victory over Japan. Then came a fighting 0-0 draw in Australia in Sydney that saw the scrappy side of the team.
The West Asians kept going and kept on picking up points. Different players stepped up when they were needed. Wide attacker Salem Al Dawsari cemented his reputation as one of the continent's best, with midfielder Salman Al Faraj one of the coolest. Strikers Firas Al Buraikan and Saleh Al Sherhi chipped in with vital goals. There were injures but the team overcame them and ended up being deserved group winners.
There are issues. All the squad play at home meaning there is a real lack of international experience and exposure. Officials have tried to mitigate this by playing plenty of friendlies, a string of games that started with June defeats against Venezuela and Colombia that showed there is still much to do.
All being based in Saudi Arabia means, however that the players will get plenty of rest and time training together. And there is not much pressure. Nobody expects anything from an opening game against Argentina, a team with genuine hopes of going all the way. Anything at all from that clash would be a very big deal indeed ahead of less intimidating matches against Poland and Mexico. The Olympic team showed in Toyko that they could be competitive against the best but were just a little naive and lacked ruthlessness up front, and offensive power is an issue for the senior side too. The Saudi Professional League is thriving with Al Hilal- who supply several of the team's best players- currently Asian champions, but it also allows each team eight foreign players (seven per match day), many of which are talented strikers. This does not give locals many chances to shine up front.
Al Buraikan made the top ten list of league goal scorers last season but with Al Sherhir injured for much of the year there are not many other options. Yet, under Renard, there has been more belief discipline and steel than in the past and, while Saudi Arabia are rank outsiders, a team that finished above Japan and Australia must have something about them. There will also be plenty of fans in Qatar, their backyard, to help cheer them on
THE VIEW FROM SAUDI ARABIA
"I am very impressed with Renard and the harmony in the team. He knows how to get the best from each player. We have players and technical staff in whom we are confident, and they are experienced in facing challenges. There is an opportunity to reach the last 16."
Ayman Al-Hatami, social media football personality
"I expect the Saudi team to pass the round of 16. It will be held for the first time in the Middle East which means more Saudi fans. The team has many Al Hilal players, who are the champions of Asia twice in the last three years and have lots of international experience."
Fares Al-Fazi, Asharq Al-Awsat
COACH
Herve RENARD (Fra)
Age 54 (30.09.68)
Appointed July 2019
Being in charge of Saudi Arabia for three years is impressive, and recently Renard signed an extension to 2027. There is more discipline, fight and belief in this Saudi team under the Frenchman, who led Ivory Coast and Zambia to AFCON glory. Unlike some coaches in the past he's spent plenty of time in the country keeping tabs on the younger teams (the U23s became Asian champions in June). Renard would surely love a world-class player or two, plus European experience but he is not going to want for time with his players before the finals kick off.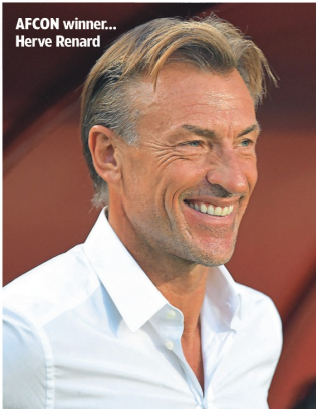 To read the rest of this preview, order our World Cup Special here