Champions of Africa
A first-ever international trophy has given Senegal renewed confidence going to Qatar
Words by Mark Gleeson
Senegal's first-ever Africa Cup of Nations success in February, followed by World Cup qualification for a third time in March, marks them out as the continent's top team and the best prospects for an African breakthrough in Qatar.
After a disappointing tournament in Russia, where all five of the continents representatives crashed out in the first round, including the Lions of Teranga themselves, there are hopes of an ultra-confident Senegalese side can make a big impact in Qatar. There are some positive parallels with the side that first represented Senegal at the World Cup 20 years ago, beating the holders France in the opening game in Seoul and going on to become only the second African side to reach the last eight.
A dynamic striker and talisman in Sadio Mane, as was El Hadji Diouf two decades ago; a strong midfield line-up plus a competent defence. In fact, this might be a better generation given they have the World Goalkeeper of the Year Edouard Mendy as their last line of defence. Captain Kalidou Koulibaly is rated among the top defenders in world football and recently moved from the Serie A to join Mendy at Chelsea.
At the 2002 finals in Japan and South Korea, current coach Aliou Cisse was the captain. He has been coach for the last seven years in an extraordinary achievement for a manager on a continent where trigger-happy administrators hire and fire with gay abandon.
Cisse's tenure includes the last World Cup in Russia where Senegal's campaign came to a heartbreaking halt after the group stage, eliminated on fair-play points when they tied with Japan on points, goal difference and goals scored as well as head-to-head. Senegal collected six cautions to four booking for Japan and so went out.
But February's Cup of Nations triumph has put all that behind them with Senegal deserved winners at the tournament in Cameroon where they were patently the best side on view albeit needing post-match penalties to edge out Egypt in the final.
They then defeated the Pharaohs again six weeks later after another penalty shootout, this time in the two-legged play-offs to qualify for Qatar and again they looked the better of the two sides.
The Lions of Ternaga will now have high hopes of advancing from Group A where they have a tough opening game against the Netherlands but will fancy their chances against Qatar and Ecuador. After that, if successful anything could happen.
THE VIEW FROM SENEGAL
"The sky is the limit. We have a generation of players of a very high quality, players who have won the Cup of Nations, who play in the UEFA Champions League and in the top leagues across the world. They will respect their opponents, but they won't be scared of them. African football has improved drastically."
Salif Dialo, Agence de Presse Senegalaise
"Senegal will have a lot of ambition in Qatar after winning the Cup of Nations. A minimum is to do better than in 2018 and to get to the quarter finals, but there are many who believe they can become the first African side to get to the semi-finals of a World Cup."
Aliou Goloko, media consultant
COACH
Aliou CISSE 
Age 46 ( 24.03.76)
Appointed March 2015
Another World Cup for Aliou Cisse after captaining Senegal in 2002 and coaching them in Russia four years ago. he took over as coach from Alain Giresse in March 2015 on an open-ended contracted having been shifted up from his job in charge of the Under-23s. After, he finished playing at PSG, Montpellier, Birmingham and Portsmouth, he went home to coach with the Senegal Football Federation and through the ranks with the national and junior teams. His stock rose even higher after leading the Lions of Teranga to their first AFCON title in February.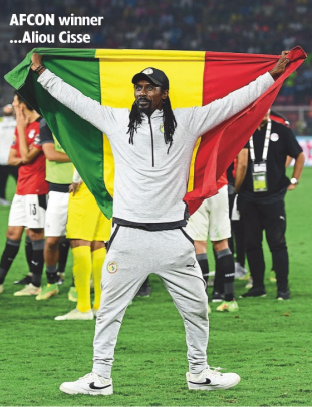 To read the rest of this preview, order our World Cup Special here