Wave of optimism
The Serbians are riding on the wave of coach Dragan Stojkovic's confidence and optimism
Words by Vladimir Novak
When, back in September 2019, Serbia suffered a 4-2 home defeat in a Euro 2020 qualifier against Portugal, they were inferior and it never looked like they could put the Portuguese in trouble. Two years later, under new national team coach Dragan Stojkovic, Serbia went to Lisbon needing a victory to secure direct qualification for the World Cup and conceded an early goal, but they managed to bounce back, to dominate and eventually celebrated a deserved 2-1 win. The core of the team was pretty much unchanged, but in terms of performance, self-confidence and body language, the difference was stark.
It is believed that Stojkovic, named coach only three weeks before the start of the qualifiers, is to thanks for such a transformation. Mainly down to his knowledge, authority, charisma and clever man-management skills, Serbia put in displays that secured their ticket for Qatar. "Piksi" (Stojkovic's nickname) insists on attacking football and has built a team capable to follow his philosophy.
The team's strength is in attack with talented individuals like Dusan Tadic and Sergej Milinkovic-Savic, offensive wing-backs Filip Kostic and Darko Lazovic, plus prolific centre-forward Aleksandar Mitrovic. Unless Stojkovic opts for a 3-5-2, which seems unlikely, Serbia will have the luxury of having Serie A top striker Dusan Vlahovic only on the bench. Alongside him will be Filip Djuricic, Luka Jovic, Nemanja Radonjic and Andrija Zivkovic as possible super-subs. Another quality of this Serbian team is the strong team spirit and character. In three games in qualifying (twice against Portugal and in the home tie against the Republic of Ireland) they managed to come back from behind and get a positive result.
Possibly this winners' mentality is linked to the fact that several players at youth level, were European and world champions after winning final matches against favourites like France and Brazil. For example, in the starting XI for the decisive tie with Portugal, there were four players who won the 2015 FIFA U20 World Cup title (Predrag Rajkovic, Milos Veljkovic, Zivkovic and Milinkovic-Savic), plus three on the bench (Vanja Milinkovic-Savic, Nemanja Maksimovic and Marko Grujic).
Cause for concern are an insecure defence and inability to play out from the back. Also, in some matches Serbia have shown a lack of consistency, often putting in an impressive performance in one half, but "disappearing" in the other – the 2-2 UEFA Nations League draw with Slovenia in June ( after being 2-0 up at half-time) is a prime example.
What Serbia can achieve at the World Cup is difficult to predict, but it seems that their chances of doing better than in South Africa 2010 and Russia 2018 – when both times they were eliminated in the group stage – do not look bad.
THE VIEW FROM SERBIA
"Serbia are always strong enough to compete for the first or second place in qualifiers for a major tournament. It's a good generation. It's true that we have a difficult group, but I believe we can advance to the knockout stages and afterwards everything is possible."
Veljko Paunovic, Serbia's 2015 Under-20 World Cup-winning coach 
"Serbia haven't played as well or been as watchable as they were in the qualifiers for a long time. Stojkovic gave the players self-confidence and motivated them in a great way. From my point of view its already a big success to have qualified."
Gojko Andrijasevic, Sportklub Tv commentator.
COACH
Dragan STOJKOVIC
Age 57 (03.03.65)
Appointed March 2021
The former world-class Yugoslavia playmaker started his coaching career at the age of 43 and, before the Serbia job, worked exclusively in Japan and China. But if he continues his excellent work with the Serbian national team, "Piksi" may one day also be regarded as a world-class coach. With more or less the same players who put in miserable performances in the qualifiers for Euro 2020, Stojkovic has not only got the right results, but achieved his vision and plan that his team plays attractive, attacking football.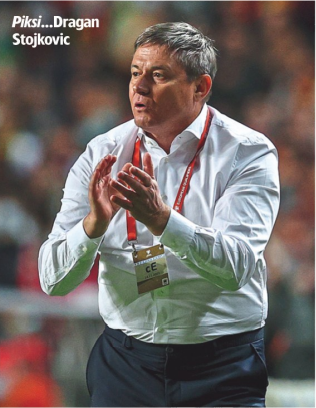 To read the rest of this preview, order our World Cup Special here