Back in contention
Reaching the Euro 2020 semi-finals has given Spain belief that they can compete again
Words by Sid Low
Asked what he felt, Dani Olmo said: "relief". It wasn't until the last four minutes of their final game that Alvaro Morata's goal qualified Spain for Qatar. Olmo's shot came off the bar in Seville and Morata was there to beat Robin Olsen and take them to their 12th World Cup in a row. It had been close, more on edge than expected, and Sweden had the better chances, but the pessimism, even fatalism, that had clung to the Seleccion feels like a thing of the past now.
For Spain it has seemed like all or nothing over 14 years. For three consecutive tournaments – a unique run- they were champions winning the Euro's in 2008 and 2012 and the World Cup in 2010. For the next three, they didn't win a single knockout game. In 2014 they were already eliminated before their final group match; in 2016 they failed to win their group and then lost to Italy; in 2018 they won once in four games, sent home by Russia- a defeat that was almost a parody of a thousand pointless passes.
Things are different now. All or nothing? Probably neither, but Spain do travel to this World Cup feeling a team is taking shape, a new generation that can compete again, their coach's vision applied with high fidelity. Luis Enrique's first home game was a 6-0 win over Croatia. They beat Germany by the same score. Since losing to Croatia in 2018, Spain have lost just five out of 45 games: two of which were a Nations League final and a European Championship semi-final. The latter on penalties having been the better side.
It hasn't been exactly perfect: late qualification for Qatar shows that. Progress at the Euros was faltering until falling to Italy, winning just once inside 90 minutes. And they have laboured to beat weaker, defensive teams. But no one expected them to be so close, the Euros summer signalling a shift. "After nine years crossing the desert, we're back," the federation president said. "We're gutted but very proud; we went toe to toe with the best Italy I remember," Jordi Alba insisted.
Revenge came in the Nations League in Milan, Spain the first team to beat Italy for 37 games. In the final having faced France "as equals" in the coach's words, only a contentious decision saw them lose to the world champions. "We were superior to a team like France," defender Aymeric Laporte said. "In 2021 we played a Euros, a Nations League final and qualified for the World Cup: a splendid year where we fulfilled objective although we could have won something," Luis Enrique said. "We're proud of what we've achieved." The morning after the France defeat one headline said: "No trophy, but a future." They now hope that future starts here.
THE VIEW FROM SPAIN
"Spain have a good group with a variety of options from the midfield to the forward line, although perhaps there's a lack of finishing ability, which could be decisive when it gets to the knockout rounds. IN 2008 and 2010 they had David Villa who won games for them, and there isn't that profile of player now."
Rodrigo Errasti, Radio Marca
"I have a lot of faith in the coach; he's the leader. This is a very young team and he gets the best out of them, which is where the optimism comes from. I don't dare to say that Spain are one of the favourites but I think it will be a good World Cup."
Antonio Muelas, Radio Nacional de Espana
COACH
Luis ENRIQUE
Age 52 (08.05.70)
Appointed July 2018
There are quite a lot of people who don't like Luis Enrique much – and he seems to quite enjoy that, his provocative approach probably more playful than his overly wound-up critics realise. What they don't deny anymore (they did) is that he knows what he's doing. An innovative coach, fascinating to listen to, he had a platform built at Spain HQ to overlook sessions and installed a giant screen so he could show players, live, what they did wrong. Fiercely competitive, he has a very clear view of how to play and the players know that: this is very much his team.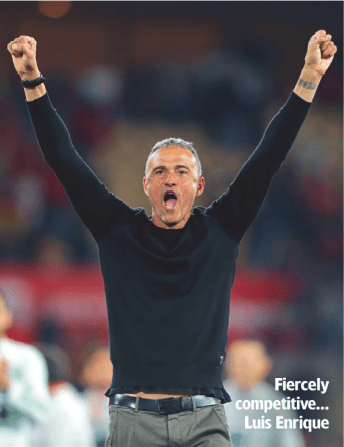 To read the rest of this preview, order our World Cup Special here