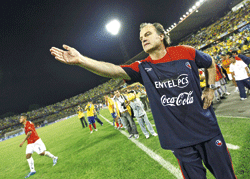 World Soccer: How useful is it to play friendlies when not at full strength in order to prepare for a World Cup?
Marcelo Bielsa: Matches always offer conclusions. Certainly some of the players' performances help to confirm some decisions which, after a year's work, become consolidated.
Were you worried by Chile's failure to score in the friendly against Venezuela in March?
I would be worried if we were not making chances but in that match we had 10 chances to score. The only reason we didn't was due to a lack of skill in our finishing. It had nothing to do with the characteristics or quality of our opponents.
How highly do you rate Chilean footballers?
When I began this job I analysed all the points of view first and I never had any difficulty in transmitting my ideas. There was a period before Toulon [the 2008 tournament in which Chile finished runners-up to Italy] where it was obvious we needed some work. After that we rounded out the squad and footballing ideas.
How difficult is it to leave players out?
It's the hardest part of a job like this. Everyone is responsible for the first step [of qualifying] and to have to discard someone is very painful but it can't be [done] any other way.
How important is Humberto Suazo's form?
We sometimes need 15 scoring chances to convert one. The important thing is for our players to compete with the best on an equal footing. We have someone like Suazo [who was named best player in Mexico's apertura last year] and that makes me very happy.
You sometimes send players back to their clubs when you don't need them any longer for matches…
The players belong to their clubs so I use them only as long as I need them. It seems to me unfair [to keep them unnecessarily]. I took the decision through common sense, with good intentions. I don't benefit anyone if I keep footballers that I'm not going to use.
What were the keys to qualification?
The team got to the World Cup on their own performance. It's not that I took them, rather that I'm going with Chile. I'm happy. The players have been absolutely faithful to what we were trying [to achieve]. It's everyone's achievement. I wouldn't want to forget those no longer in the squad, I'd like to share the happiness with them. I recall the cross from Villanueva and the goal by Salas in Uruguay [a 2-2 draw in 2007] to illustrate what each one meant.
Is there a difference between qualifying and playing in the World Cup?
The reality of the qualifiers, which are long, is different from a World Cup. We will take all the measures necessary so all the players get to South Africa, where we are only guaranteed three matches, in their best form.
Will you stay on after the World Cup?
The most advisable thing is to wait and see what happens, await reactions and look over the whole process. It wouldn't be prudent for anyone to imagine the future without taking into account facts like those offered by a World Cup.
Would you consider taking out Chilean nationality?
Something like that is always a matter of pride, but we have to look at whether it's right that a sporting success should generate such a response. To be naturalised, one ought to do much more.
Chileans respect, admire and even love for you giving their national team back pride and self-belief…
I have to thank Chileans for their support. We played all the [home] matches in packed grounds. There was unconditional support, or at least that's how it felt. I'm happy the players were able to give the people back the joy that unites all Chileans.