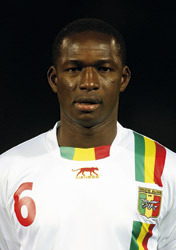 World Soccer: Does living in Europe make playing for the national team even more significant?
Mahamadou Diarra: Being away definitely increases your sense of identification with the country when it comes to the national team – all the more so in my case because I left home very young, at just 17 years, four months. I was just discovering my country, becoming an adult, finding out what Mali was, and then I had to leave. Patriotism is very important for me. I am enormously proud of my country and am determined to play in every match. Everything I do matters to people in Mali, and I feel a great responsibility towards them.
When I played in Greece, in Holland and in France, Malians followed my career, and you can't imagine the number of Malian Real Madrid fans there are now. That support drives me. Whichever club I play for, I'm playing for Mali too. That's why I always wear a sweatband in Mali's colours when I play for my club and carry a Mali flag when I celebrate winning a title.
So playing for Mali is a responsibility as well as a pleasure?
I've always felt a responsibility towards Mali, and that can weigh on you – in a good way. Deep down, I like that pressure, I need it: it serves as a source of inspiration. In 2002 Mali made me captain even though I was only 20. Wearing the captain's armband for Mali is like wearing the armband for an entire continent. You have to know how to handle it. But it's what I wanted and it's a challenge I welcome.
In Europe, two Malian players stand out above all: you and Frederic Kanoute. But in Mali, he's not deemed nearly as important as you.
In Mali we have a different mentality to Europe. In Africa, in Mali, they love players who fight, who destroy themselves for the team. Also, I started with Mali at the age
of 17 so I'm considered a veteran now, someone with responsibility. Kanoute [who was born and raised in France] has played fewer games and his style is more European, so perhaps that's why.
You mention the importance of a physical role, of a fighting spirit to the African style. That's reflected at European clubs, where there's a trend for powerful African central midfielders. There's you at Madrid, Chelsea have Michael Essien, Liverpool have Momo Sissoko, there's Seydou Keita at Sevilla and Yaya Toure at Barcelona.
It's wrong to suggest clubs like Africans just because they're strong; if they sign us, it's because we can play. You can be a great athlete but a dreadful footballer. In my role, you have to be very complete – tactically, physically, technically. You have to be a leader, too. Besides, let's not forget there are plenty of good African strikers too – Drogba, Kanoute, Eto'o. We're not just here to do the dirty work.
Asked why he always buys tough, powerful midfielders, Fabio Capello, your former boss at Madrid, once said: "Tough, no – intelligent." That's the point, isn't it?
One thing is absolutely clear: in such an important position, you can't just be physical. My role is maybe 40 per cent physical, 40 per cent intelligence and 20 per cent sacrifice. If you're not a good footballer, you can't play in the middle – there's nowhere to hide there.
Is the fact that European commentators tend to rather easily categorise African players as "powerful" a way of denying their talent? "Oh, Africans are strong" – it's a backhanded compliment and a cliche, isn't it?
Yes, I think it's a cliche. There are plenty of European players who are physically strong, and we Africans are not just strong; lots are bright, tactically aware, technically gifted.
Is that indicative of a European attitude that looks down on Africa? Do you think there's a lack of respect towards African football?
Yes, that's something you can feel, it's palpable. When I go to Africa, it's the same ball, it's the same game; I play the same for Madrid as for Mali. There is a lack of respect but I don't worry – I don't play so that people in Europe say nice things about African football.
That's reflected in the club versus country row. Africans are expected to choose club over country. They'd never dare say the same with an England international, or a Frenchman, an Italian, a Spaniard…
That's true and I don't understand it. But it's not the club's fault or the player's fault. It's FIFA's responsibility; FIFA often gets that wrong.
What can it do to change the situation?
Apply its own rules. FIFA has to apply the rules it invented. It's rule says: country above club. That's not my rule, or the clubs' rule, it's FIFA's!
You experienced the ultimate expression of that last season. Madrid were playing for the league title, while Mali were playing for Nations Cup qualification. You got stuck in the middle, with your countrymen furious and Madrid demanding your presence.
I never, ever want to have to live through that again. And I hope it never happens to another player, either. I felt as if I had been buried alive. I was absolutely sure that Madrid were going to win the League, with or without me. But Mali? Mali could lose. I felt like I was going to have to change nationality! I thought: if I don't play and Mali lose I'm going to have to get my family together and leave. The England players might have been insulted by fans after being knocked out of the European Championship but no one's going to hit them, whereas that could have happened to me.
The minister of sport had to intervene to publicly explain that it wasn't your fault.
Not just the minister of sport, the prime minister, too! Luckily, when I left Mali for Madrid in the middle of the row, I still didn't know that I wasn't coming back, that I was going to have to stay in Spain, or else I wouldn't have got out; the fans wouldn't have let us travel.
In the end, you played for Madrid, and both games were at exactly the same time. Psychologically, was it hard to play for your club when your mind was elsewhere?
No, because by the second half I knew Mali were winning 2-0! I got my mobile at half-time and saw the message: "1-0 Mali, 2-0 Mali."
Hang on, didn't Fabio Capello ban mobiles in the Madrid dressing room?
Yes, but I went to the toilet and sneaked my mobile out! "2-0 Mali" – I felt liberated. Now, I thought, I can go out and score for Madrid [they were 1-0 down against Mallorca and had to win].
And you did. It turned out perfectly. Madrid won the League, you scored and Mali won 6-0.
I was partying for two days. I'll never forget it.