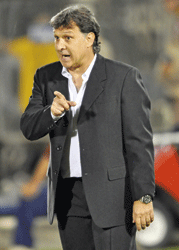 World Soccer: You want Paraguay to play higher up the field and take the initiative. Your first competitive game was a 5-0 win over Colombia, but it was a counter-attacking triumph. Then you lost 6-0 to Mexico. Were you trying to change the mentality too quickly?
Gerardo Martino: Probably, though I had already coached many of the players at club level. Perhaps that 5-0 win was a problem, with the euphoria it created. But that took place at the start of our project and we needed time to convince the players, to win them over to the new idea. Obviously we have to take the necessary precautions depending on the opponent we're facing, but the players are convinced by the idea that they can go out and take the initiative, even in the World Cup.
In the qualifiers, Cristian Riveros was the only midfielder to score.
In South Africa will he be given the freedom to keep bursting forward? No doubt about it. He's fundamental to us. He can carry out all the functions in midfield, but his goalscoring sense is vital. He breaks into the box, shoots with either foot, is good in the air and has a nose for the opportunity. But we don't just want to rely on him for goals from midfield. Our strength is putting pressure on the ball and attacking as soon as we win possession. I want [Jonathan] Santana and [Edgar] Barreto to be looking for goals as well.
The team lacks height at the back. Is this a worry?
Being tall doesn't necessarily mean that you can head the ball well, though we do have some bigger players, such as [Antolin] Alcaraz and Victor Caceres. We can count on a number of excellent headers of the ball in the side so I think we've got it covered from set-pieces, though open play does present
more problems.
You've worked successfully with Paraguayan clubs. How is the national team different?
In those things that all national team coaches complain about – conflict with clubs over access to the players and lack of time to work. With Paraguay there is also the complication that so many of the players are based abroad. We have a number of players in Mexico as well as some in Europe.
At times I feel I'm in a travel agents, trying to work out what time the flights are and when the players will arrive.
You're an Argentinian, and some of the players now breaking into the side were also born there. The public seem a bit hostile towards them. Is this difficult to deal with?
It's not easy. I see it less as a consequence of nationalism, more in terms of footballing taste. The discussion usually centres on whether the player is considered good enough. There is no doubt that these players qualify as Paraguayans – they are direct, blood descendents of families who have moved for economic reasons. What happens is the players, with their commitment and pride in representing the country, end up winning over the crowd. But it's a process that largely depends on results.
Why are your results in friendlies often so bad?
These are games which we haven't learned how to play. We need to realise that doing well in these matches adds prestige to the national team. It's true, though, that we play best against the best teams, against France or Holland [both 0-0 draws away from home], for example. This motivates the squad and the big occasion brings out good performances.
What of Paraguay's World Cup draw?
I like the fact that we're not defining anything against Italy. I'm happy to start against them. Slovakia have come on strongly and they're the team to beat if we want to get through to the next phase. New Zealand are well developed physically, powerful and good in the air. Whether the group turns out to be easy or difficult is up to us, because it depends on how well Paraguay play.