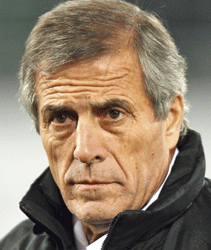 World Soccer: Does your previous World Cup experience in 1990 help you to better prepare for this one?
Oscar Tabarez: It helps to hold certain convictions… I'm aware it's a World Cup although I'm also aware of the greater demands, the bigger divide there is between the elite leagues and the others. I'm sure that the first round of a World Cup has the same objective as the qualifying phase, to get past that phase, because no-one writes the history of who played best in the eliminators, but books are written about teams that played well and got to be champions.
Who remembers that Switzerland, at the 2006 World Cup, won their group? They went out in the first knockout round. For me the World Cup starts in the second phase. On an emotional level, the qualifiers are more difficult (than the finals) because you're up against the possibility of pursuing a dream or being left empty-handed. So the ambience at a World Cup is not the same, but it's more demanding in terms of the rivals you could meet, especially from a possible second phase. You don't just come up against a Brazil or Argentina that are the big teams of the South American qualifiers, but also teams of similar strength from other continents.
Whoever comes onto your path is a tough obstacle but the motivation with which you face those games is huge. To play against one of those rivals and win is to go down in history, it's not something that will be forgotten, the result is important.
Are the players aware of these thoughts of yours?
We talk about that, I don't say to the players 'I've been to a World Cup' but I tell them things. When we played Switzerland (in a March friendly) I recalled some moves of ours in the qualifiers, the move prior to the goal against Brazil in Sao Paulo, the move before (Sebastian) Abreu's goal against Costa Rica. We didn't pass the ball to the first man we saw.
When we play with the urgency of the result, the crowd pushing us, we lose our shape in that desperation which is a price you pay for the inexperience of the team. And (against the Swiss) we did it, from the first minute, we carried it through and I was surprised by the acceptance of the challenge. It was only a warm-up match but we can already set ourselves the goal of playing (good football). I think we're well on the way to having clear ideas in terms on the project and knowing what a World Cup is.
You said a couple of veterans of the 1974 World Cup in Germany that you encountered recently, including Diego Forlan's father Pablo, said they only realised they were at a World Cup when they were back home having gone out in the first round.
I think my players know they are going to a World Cup and they are going to know at the right moment, which I believe is the meaning of the word enjoy, in the sense of setting yourself a challenge and trying to play well and eventually achieving it, and realising before playing that match that they are at a World Cup and there are millions of people watching it and that what they do will remain registered in the history of the World Cups.
What would you change in terms of timing your arrival in South Africa?
In 1990, we went to Europe in April, we beat England at Wembley, drew 3-3 with Germany in Stuttgart, with them playing at full strength, we had a lot of warm-up matches in Italy with first and second division teams and we didn't get past the second round. We came up against something I don't want to face again, a problem that arose from the long time the players were away from the things that for Uruguayans are very significant like their loved ones, their everyday habits.
So we are staying in Montevideo, taking advantage of a climate that is exactly the same as that which we will encounter in South Africa and we're convinced we'll get there in the form that matches our expectations, to get through the first round fundamentally from the first match which will leave a trace as far as reaching, or not, our objective.
So how do you see your chances in Group A, probably the hardest of the eight, with hosts South Africa, France and Mexico?
That will be difficult because any of the four teams has the potential and any can be eliminated which I don't see in the other groups.
Can a surprise team like, say South Korea and Turkey in 2002, win the World Cup?
So far, none of the surprise (teams) has won the world championship, which has been limited to a certain group (of nations) and I have the hope that we can be a surprise. If we are, we'll have things that the other surprise teams didn't have because of our history, or as cynics would say, pre-history, which likens us to those champions.
Is that rich and distant history a burden or something to inspire your team?
If we take (those titles) as something we have to revalidate then it's a negative burden. It's an incentive to keep adapting to the realities of today's football. We must value other things now, not think that we are no longer world champions but rather realise that in a country with only three million inhabitants and a constant bleeding of its footballers, who are being taken younger and younger, kids who are good at football keep emerging who go to the most demanding centres and manage to adapt and at times stand out, that among the 200 member nations of FIFA we are 18th in the ranking. We must go (to the World Cup) with the expectation that if we have players taking part in important leagues it's up to us to try to prepare as best we can to approach the strength of those teams.
Your tenure has been an exception in lasting a full World Cup cycle of four years even if there have been five different presidents of the Uruguayan Football Association (AUF) in that period.
I think it's the right path for Uruguayan football, to have stability in terms of planning, organisation. It's the only way of having the possibility to fight for a position of privilege and go to the World Cups which is something very important for us. And once we're there, try to do as well as possible.