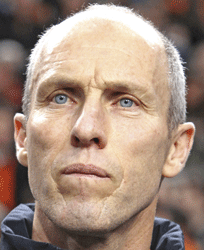 World Soccer: What did the core group of current U.S. players take away from the 2006 World Cup?
Bob Bradley: The past experience has now become important. In a number of cases, following the last World Cup, we felt that it was time for some players to take more responsibility. Some of the leaders from the past had retired from international soccer, and now there's an opportunity for others to take bigger roles. In 2002, we have some players that were part of that team, which highlighted that when the mentality is right, when the team works well together, anything's possible. And 2006 is just a reminder that success is never guaranteed. So we take all these experiences and hopefully use them well as we get ready for South Africa.
Who are some of the players from four years ago that you look to see that progress from?
Without question: Tim Howard, Carlos Bocanegra, Steve Cherundolo, Oguchi Onyewu, Landon Donovan, Clint Dempsey. I think these are all players whose experiences in previous teams, as well as the roles they've played throughout the last few years, are very important for us.
What are your thoughts on your Group C opponents?
It's a tremendous opportunity to play England in the first game [June 12 in Rustenberg]. It will bring an amazing amount of attention to the sport in our country and it's an exciting opportunity for us.
Slovenia [June 18 in Johannesberg] is a team that won a playoff with Russia. Matjaz Kek [Slovenia's manager] has done an excellent job in terms of organizing his team. They're very strong defensively, and their success in the qualifying is a tribute to their collective mentality.Algeria [June 23 in Tshwane/Pretoria] has shown that they're a team that plays with tremendous passion, and they rose to the occasion in some very big games. They have some very talented individuals. It makes for, in all ways, a very strong group.
Does a manager have the luxury of looking past the first match of a World Cup, to a degree that players don't?
Our experience in different tournaments has taught us how to balance the understanding that the first round is three games. You find a way to do whatever is necessary to advance to the knockout phase, and yet to concentrate on each game as you prepare. Our experience last summer in the Confederations Cup was particularly important, to go along with the experience players have had in different World Cups.
What did you look for in selecting your training site [near Pretoria] for the World Cup?
We were fortunate that our schedule in the Confederations Cup was quite similar, in terms of where we were playing matches, to our schedule for the World Cup. Tom King [U.S. Soccer administrative director] did a great job of assessing training facilities throughout South Africa and he and I on a number of occasions looked at facilities. Ultimately we felt that altitude was important, and we wanted a training facility that gave us the ability to work comfortably and concentrate on building our team and handling everything that goes into World Cup success.
What other lessons did you take away from the Confederations Cup?
The lessons are just the ability to adjust from game to game. The ability to understand what each game is about, and to learn from games but remember that, again, advancing is about three games. And it's not often that a team just has everything go its way in three straight games. It's necessary to be able to deal with some things that don't go your way, and as a group maintain the confidence and the focus to do whatever it takes to move forward.
When describing your approach as a manager, you often talk about the "little things". What are the "little things"?
Essentially, details. In terms of personalities of your team. In terms of how your team plays. In terms of your opponents, making sure that the team is given the best chance to be successful.
So you consider yourself a detail-oriented coach?
There's a balance, always. Understanding the game. Communicating with your team. Having a sense of how to help a team grow, the process of becoming a good team. The process of understanding how to play in difficult games against top opponents, and knowing how to play well and compete and win. To whatever degree there are details involved with that, those are the things that as a coach we focus on.
What are your earliest World Cup memories?
As a young kid in Essex Fells, New Jersey, I had some Super 8 films of the 1970 World Cup that I would look at over, and over and over, and see the way players like Pelé and Beckenbauer and Gerd Müller did things on the field. That's a World Cup where Brazil had a great team, but along the way there were many great games and great moments. And as a young player, I learned a lot from just watching those films.
My brothers and I lived across the street from a school where there was a field and basketball courts. The opportunity to be on that field every day and play different sports was a great thing for a young kid. And the sense that there was this big tournament called the World Cup, and seeing what the best players in the world looked like and how they played, those are important when you're young.
Does growing up with that competitiveness add to your edge as a professional manager?
Without a doubt. My father had played (American) football, baseball and basketball. He had coached football at a college level. We were around sports and we grew up where you competed every day on the field. And I think that goes a long way towards shaping your ideas.
Would you say a similar thing of [your son] Michael's upbringing?
The big difference is that, because I was involved in coaching, he has been around the game since he was very young. And the opportunity to be around good players, the opportunity to be around people who understand the game, to play in all sorts of games along the way, and to have a great experience in soccer from a young age, I think is something that motivated him.
How important has Landon Donovan's experience with Everton been? Does his exposure in England make him less of a 'secret' than he might have been?
Perhaps with fans in England that would be the case. But certainly Landon's success in his career has been seen at the highest levels. And as teams prepare for South Africa, every team goes to great lengths to make sure that they're on top of the individual players on teams. So I don't think he'll be a 'secret' in that regard.
Landon has been very well received by everyone at Everton, including the fans. Everton has played very well and has been successful and he has played a really good role during that period.
In terms of his confidence and knowing that he could play on that type of team – which is a team that has to work hard on the field, that has the type of mentality the fans there want to see, that is committed at all times, and that has been able to get some great results – I think the entire experience has been positive.
When you started with the national team, you began as an interim, and were later named 'full' head coach. How do you look back on that period?
Quite honestly, it was never a factor on my end. I've often said that it's a tremendous honor to coach the national team and the idea of doing whatever you can to move the team along, to prepare it properly for important games, to fully commit yourself to the work of getting to know the players, the work that goes into building a team… When you're so committed and focused on those ideas, then you know that, in the end, the rest will take care of itself.
What, if anything, is within a manager's control in dealing with the issue of injuries leading up to a World Cup?
The calendar for players around the world is very busy, and so within a coaching staff it's important to find the right balance when their seasons end for some rest, to also know how to move the work along properly, to give all players the best chance to be healthy and play at a high level in June.
How important is fan support in South Africa? What's your sense of how many U.S. supporters will be there?
There's nothing that means more to a player than that feeling of looking into the stands and seeing people wearing the red, white and blue, supporting our team. Our expectation is that we'll have a strong group of passionate, loyal supporters who are there to help us. And we appreciate that a great deal.