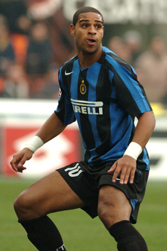 Internazionale striker Adriano has revealed that he does not get on with Juan Sebastian Veron.
The pair were rumoured to not speak with each other, but the Brazilian denies that their frosty relationship affects their behaviour on the pitch.
"In any job there is always someone who you don't have a good relationship with," said Adriano.
"I don't have too much of a problem with Veron but it's true that we don't talk much.
"The most important thing is that we both work for the team when we are on the pitch."
Adriano admits his form has dipped in the latter part of the season, although he feels that some of the criticism he has received is not justified.
"I am not playing well but I will try to improve in the next few games to reach the World Cup in better condition," he added.
"I am being compared with Kaka and Shevchenko, but they are different players and play in different teams.
"It's not right to compare me with them, if I am not playing well it's because I'm not okay."
The 24-year-old has called for the fans to get behind him in the closing weeks of the season.
"I have the support of the coach and my team-mates but I get depressed when I am booed by the fans.
"If they and the officials think I don't deserve to wear the shirt they only have to let me know and then I will leave.
"In the meantime I will stay at Inter because I am happy at the club and want to win things with Inter."
Subscribe to World Soccer – The essential football magazine.