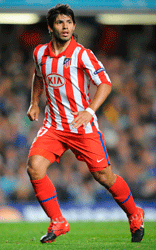 Gavin Beech has a 5/4 tip to share for tonight's Fulham v West Brom clash at Craven Cottage
Sergio Aguero has signed a contract extension with Atletico Madrid.
The Argentina forward, 22, has agreed to stay at the Vicente Caldron until June 2014.
The striker, who was linked with a move to Chelsea last summer, insists he is happy to continue his career at Atletico, where he won the Europa League title last season and has gone on to lift the European Super Cup.
The Argentinean told his official website that he wanted "to continue making progress with the club".
He added: "This is not merely putting a signature on a contract.
"It's also about renewing a commitment to the club at which I arrived when I was only 18 years old and I have been with for almost five years."
Aguero has scored 13 goals in all competitions this term for Atletico, who are currently sixth in the La Liga standings.
Gavin Beech has a 5/4 tip to share for tonight's Fulham v West Brom clash at Craven Cottage
Make sure you don't miss any of the last news and articles from World Soccer. Subscribe to World Soccer today and save up to 33%