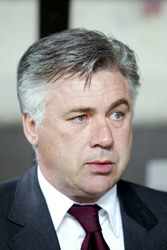 Champions League (Draw 21st Dec). Click here for all the latest BestPrice betting!
Milan coach Carlo Ancelotti reflected on an "unforgettable year" as he basked in the glory of his club's Club World Cup triumph.
The 4-2 thrashing of Boca Juniors in Sunday's final in Yokohama ended Europe's jinx in the new-look competition.
"I'm a very proud man," said Ancelotti, his eyes glazing as he recalled the darkness from which the club has emerged since being implicated in Italy's match-fixing scandal in 2006.
"It's been such a long and difficult road. I'm happy and proud that we have been able to overcome every obstacle along the way and achieve this success in Japan."
Milan began the 2006-07 season with an eight-point penalty but their initial ban from the Champions League was overturned on appeal and they went on to win the competition.
"We had to battle to get here. But we got a measure of revenge on Liverpool, and on Boca too, so those bitter memories are behind us."
Beating Boca gave Milan a fourth "world" title after winning the Intercontinental Cup in 1969, 1989 and 1990.
"It's been a truly unforgettable year," said Ancelotti, almost in a whisper.
"But we need to improve at home and I think that winning this tournament will give us a huge lift."
Ancelotti described the tournament as a "wonderful event," dismissing comments from his Inter coach Roberto Mancini.
"Whoever says whatever, we are happy we have won," said Ancelotti.
"This victory is an epilogue in the first half of the season. We must fight hard in the Serie A campaign after the second half starts in January," Ancelotti said.
"We have to fight better with this victory as momentum."
"Done this way it looks like a friendly tournament," Mancini has said earlier in the day.
"It seems absurd to me playing six games for this contest. There are only two teams that deserve to play in the final."
Despite Milan's triumph, Sunday's success may not be enough to save coach Carlo Ancelotti's job, with Jose Mourinho being linked with the post.
Champions League (Draw 21st Dec). Click here for all the latest BestPrice betting!