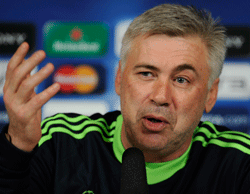 It's the Carling Cup final this weekend – see the best betting odds on EVERY Arsenal v Birmingham market here…
Carlo Ancelotti says he intends to return to Italy at some point in his career but is currently focused on Chelsea.
Ancelotti's position has been the source of speculation this season after Chelsea were knocked out the Carling Cup and FA Cup while falling off the pace in the Premier League, and it has been suggested that his future depends on the club winning the Champions League.
However, the Italian told La Repubblica: "I count on staying where I am. I am still Italian, but I appreciate the English, even if at times their press exaggerates things, like in the case of Rino Gattuso.
"I am thinking about the Champions League and fourth place at the minimum in the Premier League. I have drummed it into the team: think about the final at Wembley. I am working a lot."
There were reports Ancelotti could take charge of Roma – his former club – following the resignation of Claudio Ranieri this week, but Vincenzo Montella was named as an interim replacement.
"I will return to coach in Italy but when, I really don't know," Ancelotti added. "Meanwhile, I send my best wishes to Montella. I think I still have some bonuses to earn in England."
Ancelotti has been regularly touted as a future coach of the Italian national team but said: "They are doing well with Cesare Prandelli. After 2014 maybe…"
It's the Carling Cup final this weekend – see the best betting odds on EVERY Arsenal v Birmingham market here…
Take advantage of the sales by saving up to 36% on a subscription to World Soccer