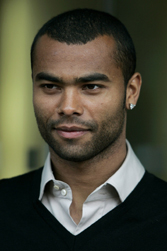 Arsenal chairman Peter Hill-Wood has revealed Ashley Cole wanted to see his salary tripled as a condition of staying at Highbury.
"If you take someone like Ashley Cole, he has another two years to go," Hill-Wood told the Evening Standard.
"He wanted something like three times what we are paying him. We said we can't do that."
Cole, who is reported to be earning £27,000 a week, and his agent Jonathan Barrett have been involved in negotiations with the Gunners.
It is thought the club rejected an inital demand of about £70,000 a week and then produced a "final offer" of £55,000 per week, which Cole is understood to have turned down.
The England defender was at the centre of a two-day hearing into allegations that he was "tapped up" by Chelsea.
Cole is accused of approaching Chelsea and he along with their manager Jose Mourinho and chief executive Peter Kenyon have been charged with approaching him.
Hill-Wood added: "We have no control over the players now, they control us.
"The Bosman system has meant that the power is really in the hands of the players and their agents now. You can't stop players leaving.
"Talks are still going on with Ashley Cole, as they are with Thierry Henry, Patrick Vieira and Freddie Ljungberg.
"I want to make it clear none of them have been a problem to us, none at all. And they all have two years left.
"Because of that, we have to re-negotiate now. But with Bosman, we haven't got any cards to play if they say they don't want to sign a new contract."
Earlier, Wenger said he believed the Cole saga had had a detrimental effect on the club's season.
He told BBC Radio Five Live: "Damage has been done to Arsenal. What happened has influenced our season but it didn't influence Chelsea and we have done nothing wrong."
When asked what punishment he wanted to see handed out, Wenger said: "It's up to the Premier League to decide that.
"I don't think they will be harshly punished, which should have been done a long time ago. A harsh punishment is first of all a quick punishment."