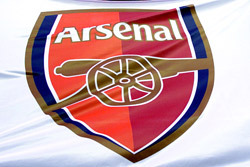 After losing to Liverpool last weekend will a defeat against Chelsea this Sunday spell the end of Man Utd's title challenge already?
Arsenal have announced their profits last season jumped to £37m but they also saw a rise in debts.
The news comes at a time when one of the club's major shareholders, US sports tycoon Stan Kroenke, has been invited to join the board.
Despite failing to win any trophies, the club's income rose by 11% to £223m largely thanks to increased revenue from TV deals.
The club's debts rose by 12% to £318m as it borrowed more to pay for redeveloping its old Highbury stadium.
But the club said those debts would fall next as the development of their former ground and the 680 flats are eventually sold.
The board said it had invited Mr Kroenke to become a director because of his experience in managing sporting businesses and to help in the further commercial development of the club.
His firm, Kroenke Sports Enterprises (KSE), owns the Denver Nuggets basketball franchise, the Colorado Avalanche ice hockey team and Major League Soccer side Colorado Rapids.
When he bought his stake in Arsenal in early 2007 it was thought he was preparing to mount a takeover bid. That suspicion led to the club's former vice-chairman David Dein being forced out because of his apparent support for such a move.
Dein then sold his shareholding to the Russian billionaire Alisher Usmanov, whose investment vehicle Red and White Holdings now controls a 23% stake in Arsenal.
To thwart any hostile takeover, the remaining Arsenal directors agreed not to sell their shares to anyone before April 2009 other than a limited number of people, such as family members.
After that, until October 2012, they cannot sell to anyone else without giving the other directors the first option to buy.
Mr Kroenke is not party to that agreement but said he would not raise his own stake in the club beyond 29.9% at any time in the next 12 months, unless it was with the agreement of the Arsenal board or if the club was the subject of a takeover bid.
The Arsenal chairman, Peter Hill-Wood, said the club was in a strong financial position.
"We are committed to operating the Club as a business which is financially self-sustaining," he said.
"This is clearly demonstrated having achieved our second highest ever pre-tax profit of £36.7m.
"Over the last two seasons Emirates Stadium has taken our football revenues to a new level, but we cannot be complacent," he added.
But he explained that the club's finances did not depend on the sale of flats from the Highbury development.
"The final profits and cash to be released to the club on completion of these property developments has not been budgeted by the club and will be treated as a bonus when received – accordingly, there is no commitment to use any such profits and cash at any specific time for any specific purpose."
After losing to Liverpool last weekend will a defeat against Chelsea this Sunday spell the end of Man Utd's title challenge already?