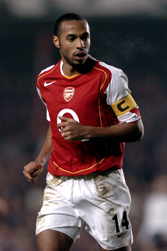 Arsenal have suffered a major setback after striker Thierry Henry revealed he may be out for up to four weeks with a groin injury.
Henry missed Arsenal's defeat at Middlesbrough on Saturday and may be ruled out of the Premiership matches with Everton, West Ham and Birmingham.
He is also set to sit out the Champions League games against FC Thun and Ajax.
"I had some scans and was told to take at least three week's rest, although it could be a month," the French striker told The Sun.
"The injury has come and gone since last season. When we were playing one match a week right at the start of the season it was not so bad.
"But now it is a game at the weekend and a game in the week. I have noticed the difference and the groin has become more painful.
"I knew my body was not right and I just have to rest. I do not want to copy what I did last season when I played on with an injury."
That Achilles tendon injury led to Henry missing the end of last season – including the FA Cup final win over Manchester United.
"I do not like missing any games but at least I will not be out for any of our really important matches – although I accept that, as we saw on Saturday, all our matches are difficult," he said.
The news comes as a huge blow to Arsenal who have already suffered two defeats this season and trail leaders Chelsea by nine points.