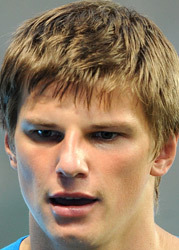 Arsenal are the new Carling Cup favourites after Man United were thrashed 4-0 by West Ham:
Arsenal forward Andrey Arshavin believes hosting the World Cup in Russia would leave a 'simply mind-boggling' legacy.
FIFA's executive committee is set to decide the hosts for the 2018 and 2022 tournaments in Zurich on Thursday.
Russia is one of the favourites to host the 2018 tournament and Arshavin has spoken of the impact the tournament will have on his homeland.
He told the Daily Express: "Hosting it here would open up new minds and new hearts for the game.
"It would be a completely new chapter for the World Cup itself. It would galvanize our game at every level.
"We are building pitches, football centres, schools and training sites in the most remote areas of our country, growing the game and providing opportunities for the next generations.
"We are training coaches and other specialists, and working hard to modernise the infrastructure of our top leagues.
"Last, but not least, we are building stadiums fit for the biggest competition on earth.
"It has been said that a huge effort is needed but that is already under way. There is a new stadium going up in my native St Petersburg, which will be finished by late 2012, and new stadiums in Kazan, in Sochi and elsewhere."
Arshavin also defended Russian fans, who have been accused of being racist.
"Yes, there have been excesses, but we must also understand that the history of our fans' clubs is not that long," he said.
"As Russia is opening up, with many foreign players joining our local clubs, all of us are learning.
"The legacy of a World Cup in Russia is simply mind-boggling."
Read World Soccer's in-depth guide to the bidding process
Arsenal are the new Carling Cup favourites after Man United were thrashed 4-0 by West Ham:
A subscription makes the Christmas perfect gift. Give a lasting gift this year and save up to 33% when you subscribe.