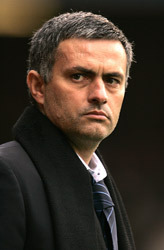 Chelsea manager Jose Mourinho attributed his side's Champions League knockout at the hands of Barcelona on bad luck.
The Premier League champions drew 1-1 in Camp Nou after losing 2-1 in the first leg, to go out of the competition 3-2 on aggregate.
"We have not seen two games where we had 11 players versus 11, so we have not seen Barcelona win against 11 – that's all I can say," Mourinho said, in reference to the sending off of Asier del Horno in the first leg at Stamford Bridge.
"Details make a big difference. We had a difficult job to do and the reality is who is in the next round."
"When I won [the Champions League] with Porto [in 2004], we scored a last-minute goal that got us through. Last year against Liverpool [in the semi-final], we missed an open goal in the last minute.
"This season we played one hour in the first leg with 10 men, but if Barca are in the next round they must be the better team.
"They are a great squad and I wish them luck.
"Last season they saw the quarter-final on TV and now we must do the same."
Chelsea knocked Barcelona out at the same stage last year, but Barcelona coach Frank Rijkaard denied that revenge was an issue.
"I am not a guy who believes in revenge," said the Barcelona coach.
"I am not a guy influenced by what might have happened in the past. I respect my opponent and I respect their coach.
"Chelsea are a great team but it has nothing to do with last year. I don't feel more happy to win this game than another.
"We always work hard for a good result but I have nothing against Chelsea or their coach. I have great respect for the work he is doing."
Subscribe to World Soccer – The essential football magazine.