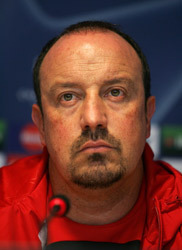 So, England have booked their ticket to the World Cup Finals in South Africa, but do you think they are good enough to go all the way? See all the latest tips and the best betting here.
Rafael Benitez insists Liverpool can produce another miracle in Europe and make sure of unlikely Champions League qualification.
Liverpool need to beat Hungarian champions Debrecen in the Puskás Ferenc Stadion and hope Lyon do not lose away to Fiorentina in tomorrow's other Group E match.
Benitez acknowledges Liverpool face an uphill task, but he remains optimistic.
"We have produced miracles before," he said. "We can do the same again. It will be difficult, maybe another miracle, but all we can do is our job. If we can then play against Fiorentina with options of winning and qualifying next week, that will be fantastic.
"Hopefully we can do it. Last time in this position, we managed to qualify and it was amazing. It will be the same if we do it again.
"We had to win our last three games two years ago in the group stages – now it is only two. We achieved success in a great way, scoring four against Porto, eight against Besiktas and four in Marseille. That was magnificent. This time, if we go through, it will be just the same feeling."
Liverpool expect to have Glen Johnson and Daniel Agger fit after calf and head injuries respectively, with skipper Steven Gerrard expected to start for only the second time in more than a month.
Benitez said: "If anyone can do it, Gerrard can, but the whole team believe it is possible."
"We have Johnson and Agger here because we believe they will be fit to play. It is very important for us to have players coming back from injury. They may not be ready but at least they are training and working with the team.
"Gerrard was tired at the end against Manchester City on Saturday. It had been a difficult game for him because he had not trained with the team for three weeks. He will be okay for tomorrow.
"For us, it is easy and simple. We have to score and win. We do not need to worry about what may happen in the future. We must not worry about what is happening in Florence – we have to concentrate on doing our own job and winning the match."
The Spaniard was asked whether Liverpool's failure to qualify would mark the end of his Liverpool career. He laughed and responded: "No, I don't think so."
Benitez also dismissed the conspiracy theory that Lyon will be happy to lose to Fiorentina to ensure that Liverpool are knocked out.
"It is an advantage to qualify in first place, so Lyon will want to do that," he said. "They are good professionals and want to win. It will be good for the club and give them more money, too, they will want to be top because you never know what the draw will throw at them.
"It will be good for the Lyon coach and his players to want to be top. I have confidence that they will try to do that."
Liverpool defender Jamie Carragher has claimed Champions League elimination would not be a disaster as the club can fall back on the Europa League.
Carragher said: "We're still focused and believe we can go through in the Champions League. If not, you move on.
"The club doesn't die because you go out of the Champions League."
The defender insisted that winning the Europa League would "put a different gloss" on a so far disappointing season.
"Myself and Stevie Gerrard won that competition before and it's a great competition," stated Carragher.
"There are other things, like the FA Cup. There's a long way to go. We haven't had a great start to the season but it can certainly be turned around between now and the middle of May."
So, England have booked their ticket to the World Cup Finals in South Africa, but do you think they are good enough to go all the way? See all the latest tips and the best betting here.
Christmas special offer – Subscribe to World Soccer magazine today and Save up to 32%