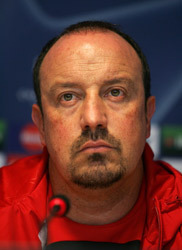 It's another huge week of Champions League action! Click here for the latest betting and BestPrice Coupon.
According to reports, Rafael Benitez will be sacked as Liverpool manager if he continues to criticise the club's American owners, Tom Hicks and George Gillett, in public.
Benitez defied Liverpool's American owners at Newcastle on Saturday, having discovered they no longer share his confidence that he can deliver the Premier League title.
Benitez already faces crunch talks with the co-chairmen next month after he launched a fresh attack on them over the club's transfer policy at the weekend.
"They don't understand the transfer window in Europe," he said after Liverpool's 3-0 victory over Newcastle on Saturday.
The factions last met following the home draw with Arsenal on October 28.
"After that meeting, something changed," added Benítez. "They said to me, 'Rafa, concentrate on coaching and training the team because Rick Parry will be in charge of buying and selling players.' So now I will wait and maybe we will lose some targets."
A statement from the pair on Liverpool's official website last night said: "Despite speculation in today's newspapers, there is nothing new to say. We had a good win yesterday and have got some very important games coming up starting with Porto on Wednesday, followed by Bolton and Reading, before Marseille and Manchester United in a few weeks. Both of us, together with chief executive Rick Parry, plan to meet with Rafa when we come over mid-December to make decisions on the team's requirements at that time."
The latest row between Benitez and the owners was prompted last week by Hicks' comments that the manager should concentrate on coaching the team and leave the task of buying and selling players to Parry.
Hicks and Gillett will now meet Benitez in an effort to clear the air, but they have made it clear that Benitez's job is on the line if he continues to criticise them.
His position would be even more vulnerable were Liverpool to get knocked out out of the Champions League by losing their group games against Porto on Wednesday or Marseille on December 11 and if they lose their League match against Manchester United on December 16.
It's another huge week of Champions League action! Click here for the latest betting and BestPrice Coupon.