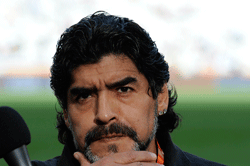 Caretaker boss Steve Kean continues to be the front-runner in the next Blackburn manager betting market
Blackburn's owners have denied reports that Argentina legend Diego Maradona is set to replace Sam Allardyce at Ewood Park.
Venky's Group chairwoman Anuradha Desai admitted earlier this week that the Indian owners had considered hiring Maradona after sacking Allardyce on Monday.
However, the owners have now distanced themselves from a possible move for the 50-year-old former World Cup winner, with Steve Kean appointed as caretaker until the end of the season.
Desai clarified that a few months prior to the VH Group's takeover, her brother Balaji Rao was approached by a friend from South America who knows Diego Maradona and recommended his name.
And Desai told The Independent: "This is so something that, because we have offices everywhere, somebody spoke about but it is not true. There is no connection.
"This is something from before we got into the EPL (English Premier League) – he knows one of our friends, but nothing beyond that.
"He is not being considered, not now and forever in the future. I can assure you there is nothing we are having to do with Maradona."
Meanwhile, Desai has launched a verbal attack on former boss Allardyce for his dealings in the transfer market.
"This team should be capable of finishing fifth to seventh and it should not always be fighting for survival," she added.
"I don't think this team deserves that. In that, Sam didn't fit in.
"My father once told me that out of 10 decisions you must get at least seven right. You can get two or three wrong, we're not gods.
"But to get nine or 10 wrong is not good and things have been going wrong with transfers, that's a fact."
Desai also denied VH Group have an exclusive deal with global marketing firms Kentaro and SEM.
The company represents more than 150 professional footballers and clubs in Europe, and top media personalities.
"Kentaro are our main consultants but Sam had the final call. At no time would any decisions have been taken with respect to buying or selling players unless sanctioned by the manager," she said.
"But we didn't even get as far as discussing names with him. We certainly don't have an exclusive deal with Kentaro."
Caretaker boss Steve Kean continues to be the front-runner in the next Blackburn manager betting market
A subscription makes the Christmas perfect gift. Give a lasting gift this year and save up to 33% when you subscribe.