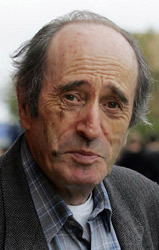 SECRET AGENTS
It was good to hear from FIFA's Matthieu Sprengers that his organisation intends to take the Stevens Report very seriously, with the 15 agents named and potentially shamed in danger of losing their FIFA licenses. They will, I trust, pay special attention to the immensely powerful and influential, and immensely wealthy, Israeli agent, Pini Zahavi, who seemed to have his finger in all the most lucrative pies and reportedly refuses to open his bank accounts to the Stevens investigators.
In an ideal football world, agents surely should be strictly limited to collecting their percentages from their footballer clients, and neither to act not to collect from the clubs. Yet in 2005 when Zahavi negotiated the transfer of that gifted Nigerian striker, Yakubu, from Portsmouth to Middlesbrough, Boro are reported to have promised him up to £3million for his trouble, if Yakubu's contract ran all the way. Nothing illegal about that, of course, but it makes the mind reel. Sam Allardyce, meanwhile, has spoken out, bitterly against the report's treatment of himself and it may well be that, when the smoke clears, he will be found to be clean as a whistle.
Yet the irony of that Panorama TV programme and its fallout is that, whereas Allardyce and his slack-mouthed son, who readily agreed to certain activities on behalf of Bolton, have so far gone unscathed, with Allardyce now actually made the new manager of Newcastle United, the Magpies swiftly sacked Kevin Bond, whom they then employed, for his admissions on that Panorama programme; even though they related to his time at Portsmouth. Now Bond is suing them for vast damages, though he is at least re-employed as the manager of Bournemouth. It was the egregious Freddy Shepherd who fired him, just as he hired Alllardyce, shortly before selling his large shareholding at a massive profit to the new Newcastle owner Mike Ashley.
A few years ago, both Shepherd and Douglas Hall, a fellow director and son of the main man behind Newcastle, John Hall – who has also now cashed in his abundant shares – were duped by an undercover journalist in a somewhat louche continental establishment, when they derided Newcastle's loyal fans for buying grotesquely over-priced gear, and dismissed the women of the city as "dogs". Subsequently sending out thousands of grovelling circulars insisting they didn't mean it. And they didn't leave.
***************
Iain Dowie, you have let us all down. Those of us who always like and even admired you. What possessed you to be, as an admonitory judge declared last week, so economical with the truth when you decided to make the short managerial trip across south east London from Crystal Palace to Charlton? Not least when there was such damning evidence to catch you out, to show that while you were telling Palace you wanted to be nearer your family in the North, you were in fact in negotiation with Charlton?
Condign punishment, perhaps, when it all went so very wrong so quickly at The Valley and you were out on your ear from there. At the time, you had my sympathy but in retrospect it was hardly justified. Still, it didn't take long to find another billet at Coventry and hardly had the smoke cleared from the High Court, with Palace's abrasive but justifiably delighted chairmen Simon Jordan triumphant, than Coventry were telling us what a splendid fellow and a fine coach you are and how glad they are to have you.
Sometimes, silence can be golden.
***************
Somewhat cautiously, Steve McClaren has said that David Beckham will keep his England place, so long as he retains his form. As one who thinks he shouldn't be back in the first place, I cannot wholly embrace such thinking.
But now he is off the Elephants' Graveyard, to backwoods football in the supposedly Major League Soccer, with a team which is floundering even there, it is hard to believe he can maintain his form – and he had unquestionably done much for Real Madrid after the spiteful criticism of loud-mouthed president Calderon – in such lowly company.
Did he ever really want to go to Los Angeles, or had the motivating force been Relatively Posh Spice with her endless mistaken ambition? And how long will Tom Cruise be around if the Beckhams don't convert to the sinister fatuities of Scientology? Not to mention the dangers of deep vein thrombosis with all the transatlantic travel. p>
***************