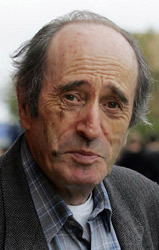 Scotland face a tough qualifier against Norway but will at least know they have the better head-to-head record over the Scandinavians.
"Butcher", sempre Butcher! " Enzo Bearzot used to say, when as manager of Italy he'd come to England to look at our internationals. "Butcher always Butcher!"
Today, when Fabio Capello, a man he used to pick for Italy, is now in charge of the England team, "We might be saying, Beckham, always Beckham!" For there, Lord help us, David Beckham is inexplicably, again, among the roster of England players for the ensuing matches against Kazakhstan, which should be very easy, and Belarus, which might be very difficult. No David Bentley, no Michael Owen but Beckham, always Beckham. On what logical grounds? And how many symbolic minutes will he get on the pitch next Saturday and the following Wednesday?
The number has grown progressively smaller. Against Croatia in Zagreb it wasn't much more than five minutes. And what on earth is the object of it, when his futile presence in the squad keeps out other more effective wingers; not just Bentley, who last Saturday found himself brought on at Tottenham by the floundering Juande Ramos as a substitute right back, but also Aaron Lennon, whose substitution by Ramos brought an incredulous reaction from the crowd.
I wouldn't blame Capello for excluding Owen, a decision which has raised an outcry of displeasure in certain quarters of the press. Sad to say, endless injuries and long absences have taken the edge off the game of one of the finest English forwards since the war. But the goalkeeping situation is dire, and you can hardly blame Capello for that. David "Calamity" James is as erratic as ever, alternating gross, impetuous blunders with stupendous saves, with Portsmouth. West Ham's Robert Green had a nightmare Sunday afternoon against Bolton at Upton Park, giving away two embarrassing goals, dropping a high ball, merely blocking a low shot rather than deflecting it to some kind of safety. As for West Brom's Carson, his horrible costly error against Croatia at Wembley remains all too vividly in the mind.
Belarus at home are never an easy proposition. Of their team, the only name of any resonance is that of their polyvalent attacker, Alexandre Hleb, till this season, a star turn at Arsenal. But it may well be significant that of the surprisingly resilient club champions Bate Borisov, who so very nearly beat Juventus at home last time out in the European Cup, only the keeper, Veremko, played for Belarus in their easy win against Andorra.
Capello has also to ponder the problem of Lampard and Gerrard, each in imposing form for their clubs at the moment, while Frank Lampard dovetailed productively in England's central midfield in Zagreb with Gareth Barry: whom he utterly outshone at Stamford Bridge last Sunday.
Reason suggests that this partnership should not be broken up; but what then to do with the dynamic Gerrard? Who has pointed out that only five times in his many England appearances has he been properly used in his favourite central role. Capello could I suppose compromise by sticking him out on the left flank in the absence of injured Joe Cole. Surely he's not going to give yet another wasted chance to the inadequate Stewart Downing, who keeps, it seems, coming back like a song; albeit a discordant one.
***************
In his new autobiography, Davie Davies, formerly a senior executive at the Football Association, mentions that I nicknamed his senior there, Graham Kelly, Kelly the Jelly. Who has just come under withering fire from the Daily Mail political sketch writer, Quentin Letts. Quite justifiably, in my view, since Kelly, as Letts trenchantly points out, sold the pass when he collaborated in the institution of the Greed Is Good League, at the expense of football at large, which it was clearly the historic remit of the FA to put first and foremost.
Davies' complaint is that Kelly was so often absent from his office. Every now and then, Davies would come straight down the long road from the FA, then in Lancaster Gate, to my house in Holland Park, notionally for coffee, which he drank, and for advice, which he was probably wise enough not to take. I do remember expressing to him my astonishment then when a successor to Kelly was sought, Adam Crozier should be in the frame. This when Crozier had been revealed in the press as having, when working on advertising at the Daily Telegraph, manipulated his figures. The newspaper had let him off with a caution but, I emphasised to Davies, how could he still be on the FA short list? Don't worry, I was told; there was a long while before the appointment was due to be made next January. In January, the smoke cleared and Crozier was installed.
Davies makes great play of which a fuddy duddy old fashioned place the FA was when he got there. Maybe; but surely that was the lesser evil when compared with what subsequently happened. It was Crozier, though Davies doesn't say so, who moved the FA offices, so long in Lancaster Gate into Soho Square in the West End at huge rental cost, while filling the place with dolly bird marketing girls on £80,000 a year.
And after Crozier had gone, oh the squalor of it all! The ghastly Faria Alam episode, in which Davies himself, whose secretary she was, was spitefully and unjustly involved, causing him as he tells us many months of anguish before he was properly absolved at the tribunal. But what Davies not the senior executive who had deviously attempted to involve Sven Goran Eriksson (involved, of course, himself!) in a deal with the News of the World mediated by the then chief of publicity and former Daily Mail sports editor, Colin Gibson?
Davies by his own account here was far too easily convinced by an evasive Eriksson that his alleged involvement with Faria was "nonsense." He prides himself indeed of having successfully stood up for Eriksson, which temps one to limit one's sympathy for his later tribulations.
He does though admit that he was "wrong, wrong, wrong" to ghost the notorious World Cup 1998 diary of England's manager Glenn Hoddle, though this is a sadly belated repentance. Hoddle asked for his help, he tells us, but why in his executive position, did he ever give it? His duty surely should have been to monitor the book rather than write it.
By the same token, if he was capable of writing Hoddle's book whatever its demerits, why did he have to use Henry Winter, the esteemed football correspondent of the Daily Telegraph, to write his own book.
***************
One more thing. Seasons ago, when Arsenal at Highbury played Sheffield United in the FA Cup, they scored a highly controversial goal. After a United player had been treated for injury, and the ball had been put out of play, the Gunners took a throw in the ball going on the right flank of Nwankwo Kanu. It should, by general convention, have then been restored to United, but Kanu seemingly unaware of the practice, trundled on the down the line to the horror of United's players, eventually crossing for Overmars to stick the ball in the net.
The referee quite correctly gave a goal. As the Romans had it, dura lex sed lex,  a hard law but the law. Restoring the ball in such circumstances was, as FIFA would alter point out, merely a decent practice.
Arsene Wenger, Arsenal's manager, sportingly declared that he thought the game should be replayed. David Davies, who happened to b e in command at the FA that Saturday evening, endorsed his view. The game there was indeed replayed and Arsenal won again. But legally, David was utterly out of order, and in the process made a fool of a referee who had in fact, quite correctly, however controversially, awarded the goal.
Davies meanwhile has given nicknames to a number of FA figures of his time. A very experienced ex-club manager suggested to me the other day that David's own nickname might be "Teflon."
Scotland face a tough qualifier against Norway but will at least know they have the better head-to-head record over the Scandinavians.