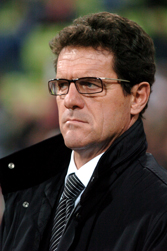 Juventus boss Fabio Capello says he would love to manage Manchester United one day.
Capello, one of the game's most successful coaches in recent years, says he is happy with life at Juventus, but is tempted by England.
"To be a coach of Manchester United would be a dream come true," he was quoted in the Daily Star.
"It would be the same for any manager, but I have not had any offers from the directors of Manchester United."
Capello was expected to be in the running for the United job when Sir Alex Ferguson announced he was stepping down three years ago.
"United are a great club and they have a historic coach," said Capello.
"For me, Ferguson has the maximum respect.
"I am very happy with Juventus and I want to win the title and the Champions League and we are serious contenders for both.
"Always there are rumours about me being linked with Real Madrid and Manchester United.
"At the moment I want to end my project with Juventus and see them through to the summer.
"But I would never discard a chance to work in England if the circumstances were right. The Premiership is a very attractive championship and I would love to prove that I can work in England as well as in Italy and Spain."