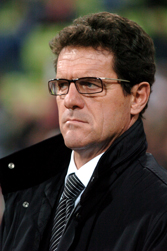 Juventus coach Fabio Capello believes Real Madrid's defeat by Athletic Bilbao at the weekend will make them even more determined to win tonight's Champions League clash at the Bernabeu.
"They were missing four important first-choice players on Saturday, so for me that game wasn't a true reflection of the strength of Real Madrid," Capello said.
"Tomorrow's game will be completely different and Real will be a different team."
The 2-0 defeat to Bilbao was Real's first defeat since the appointment of coach Wanderley Luxemburgo at the end of last year, but Capello thinks the Brazilian has done a good job organising Madrid.
"Real have taken a big step forward since Luxemburgo has taken charge," said Capello.
"The team now play a different style in terms of tactics and defence."
Juventus knocked Real out of the Champions League at the semi-final stage two seasons ago, and Capello believes that result will ensure the Spanish side will show plenty of respect to Juve.
"I think Luxemburgo left them out because they've got a lot of respect for us," Capello added.
"But I've seen the video of the game and when they came on the pitch in the second half Real were a completely different side and looked far more dangerous.
"Madrid have some great players who are capable of winning a game at any time, but we have plans that we hope will stop them, but of course I'm not going to talk about that now."