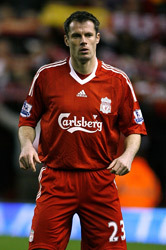 Ireland's Euro 2012 campaign continues as they host Russia on Friday night – see the best match betting at easyodds.com
Liverpool defender Jamie Carragher has welcomed news of the proposed takeover of the club.
New England Sports Ventures (NESV), owners of the Boston Red Sox baseball team, have seen a £300 million bid accepted by the Liverpool board.
But current owners Tom Hicks and George Gillett, who attempted to prevent the bid by removing the current board, will seek a court judgement in a bid to have the takeover blocked.
Defender Carragher believes the takeover would be good for the club and hopes it will happen as soon as possible so the focus can return to the pitch, where Roy Hodgson's side currently languish in the relegation zone.
He told Liverpoolfc.tv: "Everyone knows it'll be a good thing for the club.
"Hopefully it will be sorted sooner rather than later and we can start looking forward on the pitch and start improving results, which is what we need to do."
Meanwhile, Major League Soccer commissioner Don Garber believes the Premier League outfit will be in safe hands if Boston Red Sox owner John W Henry succeeds in his takeover bid.
Speaking at the Leaders in Football conference in London, he said: "They (NESV) have a tremendously robust understanding of the sports business and how to protect and enhance the legacy of the historic brand.
"That's in essence what they have done with the ownership of the Red Sox. There is something called the Red Sox Nation, a brand supported by fans going back generations, similar to Liverpool supporters.
"The ownership has not only graced that but enhanced it, they have enhanced and renovated the stadium, they have brought modern technology to improve the fans experience.
"They have put championship teams on the field and managed their enterprise with an eye to profitability, so they are tremendous pro-sports team owners."
He added: "I can't speak for the difference between Gillett and Hicks and John Henry and his partners.
"But if you are a sports fan in the USA, pick two or three of the most revered and successful clubs in our nation's sporting history and the Red Sox are one of them.
"I don't know if you could say the same about the teams owned by Mr Gillett and Mr Hicks."
Ireland's Euro 2012 campaign continues as they host Russia on Friday night – see the best match betting at easyodds.com
Make sure you don't miss any of the last news and articles from World Soccer. Subscribe to World Soccer today and take advantage of our all 50th anniversary offer, saving up to 50%!