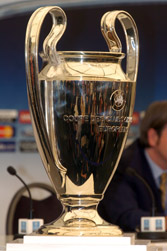 Wolves haven't won at Aston Villa since 1980 and head there again this weekend -full betting here.
Holders Barcelona will meet Arsenal in the quarter-finals in a repeat of the 2006 Champions League final.
Last year's runners-up Manchester United face Germany's Bayern Munich in a repeat of the famous 1999 final.
Elsewhere, there is a French derby game between Lyon and Bordeaux, while Italian champions Inter face outsiders CSKA Moscow.
"We respect what Barcelona have done but competition is about what you do tomorrow," said Arsenal manager Arsene Wenger.
"I believe what is important is that on the day everyone sees a good game and we win it.
"We are focused on us, not our opponents. In the quarter-finals you are bound to meet a good team and Barca are a good team.
"If you go to the bookmakers and try to place a few pounds, you will see that we are not favourites against Barcelona.
Barcelona sporting director Txiki Begiristain also predicted an exciting encounter.
"This will be the most spectacular of all the quarter-finals in terms of football," he said.
"These are two teams that play open football and the match will be a duel to keep hold of the ball."
Manchester United manager Sir Alex Ferguson said he was looking forward to what he expected to be a difficult tie.
"The history of playing Bayern in past European ties tells you it's going to be a very difficult tie for us," said Ferguson.
"It'll be a fantastic atmosphere in both games. They have a great stadium and a good pitch and we're up against a good experienced team.
Bayern chairman Karl-Heinz Rummenigge admits they are favourites once more.
"Manchester are a team who are ranked right at the top," he said.
"Manchester are the favourites, but that is where the attraction lies, to try to beat a favourite."
Inter chief executive Ernesto Paolillo insisted that CSKA Moscow will not be underestimated.
"From experience, draws are favourable or not only after the games have been played," he said.
"Is playing the first leg at home an advantage? To tell the truth I think that to have the home audience in the second leg would be better.
"The match against CSKA isn't easy and it would be wrong to undervalue them for two reasons: firstly because they are at the beginning of the season, they aren't tired.
"And then because in Russia we will play on a synthetic ground, that helps the less technical teams."
The draw for the semi-finals was also made with the winners of the Barcelona/Arsenal tie facing the winners of Inter's encounter with CSKA. The victors in the all-French tie will meet the winners of the Manchester United-Bayern Munich game.
The quarter-final ties will be played on 30/31 March & 6/7 April, with the semi-finals taking place on 20/21 & 27/28 April. This year's final will be played on Saturday 22nd May at Real Madrid's Santiago Bernabeu ground.
Quarter-final draw
Inter v CSKA Moscow
Arsenal v Barcelona
Bayern Munich v Manchester United
Lyon v Bordeaux
Semi-final draw
Inter/CSKA Moscow v Arsenal/Barcelona
Bayern/Man United v Lyon/Bordeaux
Wolves haven't won at Aston Villa since 1980 and head there again this weekend -full betting here.
Make sure you don't miss any of the last news and articles from World Soccer. Subscribe to World Soccer today and take advantage of our all 50th anniversary offer, saving up to 50%!