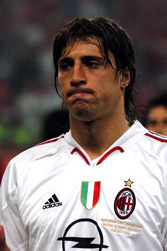 Chelsea may order Hernan Crespo to return to Stamford Bridge to solve their striker shortage.
Crespo spent last season at Milan and is desperate to remain in Italy after a successful year at the San Siro.
He was expected to stay, but Chelsea want him back, according to Milan deputy chief executive Ariedo Braida.
Braida said: "Milan and Chelsea have an agreement for the renewal of the loan, but Chelsea are trying to convince him to stay in London."
Chelsea have had a £30m bid for Juventus' David Trezeguet turned down and they were alos linked with Barcelona's Cameroon striker Samuel Eto'o as well as Milan's Andrii Shevchenko.
Jose Mourinho made it clear at the start of the summer he wanted to buy a left-back, a midfielder and a striker.
Crespo fears the collapse of an exchange deal involving Milan defender Kakha Kaladze may have ruined his hopes of remaining at Milan.
"I'm not tranquil. I try not thinking and I wait to know what my future will be," Crespo told Italian newspaper Gazzetta dello Sport.
"I want to talk with Chelsea, I don't know when, maybe in these next days.
"I wait for my agent to define a meeting, he is trying to tell me to be calm.
"Surely Kaladze's negotiation has been involved in mine and something went in a bad way.
"But I'm absolutely confident in my agent Fernando Hidalgo who is working in a really good way to convince Chelsea."