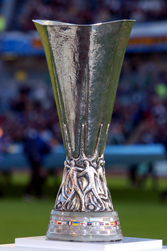 CSKA Moscow coach Valeriy Gazzaev believes his side have what it takes to become the first Russian team to win a European trophy.
"I look at the individual quality of my players, their good form and their tactical ability, and these are the components which will allow us to win the game. Also, to progress so far in a tournament like this you need to have a strong character and we do. My players are up for the task," Gazzaev told uefa.com.
"I am very satisfied. After the match in St. Petersburg [CSKA lost 1-0 at FC Zenit St. Petersburg on Friday], a few players had knocks and other minor injuries, but this is now behind us and there are no further question marks over the players' readiness. I know the eleven who will appear for CSKA," he added.
Some observers have suggested that home advantage to Sporting could prove crucial tonight, but Gassaev seems unconcerned.
"We respect our opponents and we know they are the home side. However, our players can match theirs in terms of ambition, and a final is a final where anything can happen," he added.
"Of course, the Sporting side that has reached the UEFA Cup final is individually strong. They have great young players like Ricardo, Fabio Rochemback, Liedson and Roudolphe Douala, and alongside them the experience of Sá Pinto and Pedro Barbosa. It is this blend which enables Sporting to achieve the results they do."