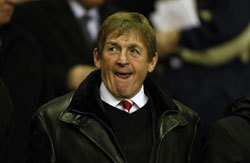 Simon Hopper sees Liverpool's misery continuing at Man United on Sunday – see what he's tipping here
Kenny Dalglish, who has been put in charge of Liverpool until the end of the season, has called for unity.
The 59-year-old admits he is "a lucky boy" to be handed the manager's job following the dismissal of Roy Hodgson.
Dalglish, the last Liverpool manager to win the title – in 1990 – quit his post almost 20 years ago after suffering emotional burn-out in the wake of the 1989 Hillsborough disaster.
The Scot accepts he cannot instantly turn back time to the glory days the club enjoyed in the 1980s.
"All I would say is I'm going to do the best I possibly can to try to help the club, but everybody has to pull in the same direction," he told www.lfc.tv.
"There's no point not being a unified unit. If we pull in different directions we won't get anywhere.
"We won't always be successful, and to be perfectly realistic, I think we have to say 'Let's just start walking before we run'.
"Let's not go crazy here and think the season changes and we're going to sweep everything aside now and go undefeated from now to the end of the season.
"We're perfectly capable of doing it but let's be realistic, let's just go out there and try our best and take things one game at a time.
"I'm really looking forward to it and it'll be a real pleasure for me to be in that dressing room again and on the bench."
Dalglish's first match in charge will be Sunday's third round FA Cup tie at arch-rivals Manchester United.
He admits confidence has been a problem within the squad but hopes his appointment will give the players the necessary boost.
"We'll do our best to get the results that they (the fans) all want," said Dalglish.
"As a squad of players and as a management we have to give them something to cheer about as well.
"I'm sure our people will respond if we go out there and they see that our lads are proud to play and that they'll do their best for Liverpool Football Club.
"It doesn't matter how good you are, if you're not confident in what you're doing and not believing that it's going to turn for you then you're not going to play as well.
"You can point them (the players) in the right direction and tell them how good they are, but they've got to believe in it.
"Our lads will admit themselves that they've not achieved this season and not maintained the standards that they're very capable of reaching."
Dalglish insists he is up for the job even though he has been out of management for 10 years.
"I think people know what they're getting and what's in the package with Kenny Dalglish, they know they'll get honesty and a great deal of commitment," he said.
"I've been a very lucky boy to be asked to do this. I'm fortunate to come back, even if it's only to the end of the season it makes no difference to me.
"I said at the start of the season that if they wanted me to help in any way, shape or form then I would do. My situation never changed.
"I was there to be of help to the football club and if John Henry (principal owner) and Tom Werner (chairman) and Ian Ayre (commercial director) and Damien Comolli (director of football strategy) were happy to offer me the position then there was no way I could be disrespectful and not take it.
"This place is very special and all we can do is try our best to move the club forward a bit and try to win some more games.
"I'll take my chances and hopefully we'll get more positive results than negative ones."
Simon Hopper sees Liverpool's misery continuing at Man United on Sunday – see what he's tipping here