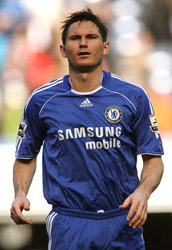 Premier League Fixtures – The start of the new Premier League season might still be a while off, but the fixtures are already out and we've got all the early match betting – Aug 16th
Chelsea midfielder Frank Lampard is in two minds whether to ask for a move or see out the final year of his contract at Stamford Bridge, according to Inter president Massimo Moratti.
Inter have submitted a bid for Lampard but have so far had no encouragement from Chelsea, who are not willing to negotiate.
"Lampard is a very serious lad and certainly he is torn between having the pleasure of something new or having a sense of duty towards his current club. In the end it is up to him to find a solution," said Moratti.
Meanwhile, Inter have confirmed that they will pursue alternative transfer targets if Lampard opts to stay at Chelsea.
"Lampard is the priority but naturally in cases like this I have been looking around for some time," Moratti said.
"If it is not possible to take Lampard, we would take a player with the most similar characteristics."
Premier League Fixtures – The start of the new Premier League season might still be a while off, but the fixtures are already out and we've got all the early match betting – Aug 16th