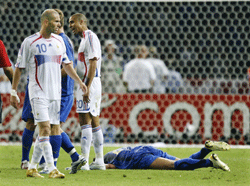 The fourth official who told referee Horacio Elizondo to send off Zinedine Zidane during the World Cup final says he saw the incident as it happened and was not assisted by video evidence.
Luis Medina Cantalejo rejected reports he had consulted the video replay after Zidane headbutted Marco Materazzi.
Cantalejo told Spanish radio: "I saw it happen live, I didn't invent anything.
"The ball was elsewhere and that was where the referee was looking. I always tell my fourth official to watch the players because things can happen."
France coach Raymond Domenech said after the game that the referee had been alerted by the fourth official who had seen the incident on television.
However, Cantalejo rejected the suggestion.
"I respect his opinion but that is not what happened," said Cantalejo.
"This incident shows how important the fourth official is. My job is to help the referee and that is exactly what I did.
"I don't know what Materazzi said to Zidane but there were protests about the action and Gianluigi Buffon went to talk to the linesman.
"When everything calmed down I told Elizondo what had happened."