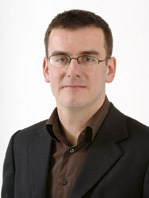 So the UEFA Cup Final in Marseille will be an all Ukrainian-German affair, after Hamburg and Werder Bremen and Dynamo Kyiv and Shakhtar Donetsk made it through to the respective semi-finals.
It's hard to draw any definitive conclusions about the competition that is about to be re-named the Europa League, other than that it remains a second-rate pretender to the Champions League. Where once the UEFA Cup was a strong indicator of the continent's up-and-coming teams, now it is a pale imitation of its former self.
The quarter-final results provide ample evidence that the German and Ukrainian leagues are on the rise. But there is more than enough evidence to suggest the opposite.
Certainly, there is currently greater strength in depth in the Bundesliga, where the leadership changes hands virtually every week (though Wolfsburg look capable of pulling away as we enter few weeks of the campaign). But Bayern Munich's Champions League humiliation by Barcelona – not to mention the exit of Schalke in the qualifying round back in August and Werder Bremen's departure after the group stages – suggests that German football may be exciting but still lacks the muscle – financial and competitive – to compete with the English Premier League and Spanish Liga.
Ukraine's leading clubs, meanwhile, may have finally overcome the problems presented by their extended winter break. But anyone who watches the game in Ukraine closely (such as our correspondent, Oleg Zadernovsky) knows how deep the problems of corruption, poor administration and now debt, run.
Any revival of the UEFA Cup (I can't yet bring myself to call it the Europa League) must tackle the problem of indifference from its richest competitors. The likes of Aston Villa, Tottenham and Milan all fielded weakened teams in the competition this season. While that should not detract from the achievements of the semi-finalists, inevitable "what if" questions are raised.
Paddy Barclay had an interesting suggestion recently, that the competition should revert to a straight knockout cup, a "two-legged version of the FA Cup" open to 256 clubs across the continent
But it's hard to see UEFA ever taking the competition down that route when television has a hand in every decision taken in Nyon. The risk of a big-name team being upset by a small-town upstart might excite the fans. But TV executives who effectively fund the competition would not want to take the risk.
One solution would be to give the UEFA Cup winners a place in the following season's Champions League. The downside of such a move would be to reinforce the financial gulf between the two competitions. But at least clubs would take it more seriously.