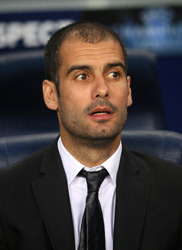 Barcelona won 1-0 in Valencia last night – they're now a best price 1/10 to win yet another La Liga title…
Barcelona coach Pep Guardiola was admitted to hospital overnight for treatment on lower back pain, the La Liga club has revealed.
The 40-year-old former Barca and Spain midfielder had to cancel a news conference on Tuesday because of the problem and looked uncomfortable during the champions' 1-0 win at Valencia on Wednesday.
"Pep is not feeling great and he got through the match as best he could," Guardiola's assistant, Tito Vilanova, said at a news conference after the game at the Mestalla.
"He is having a bad time of it and he doesn't even know where to put himself."
Barcelona won 1-0 in Valencia last night – they're now a best price 1/10 to win yet another La Liga title…
Take advantage of the sales by saving up to 36% on a subscription to World Soccer