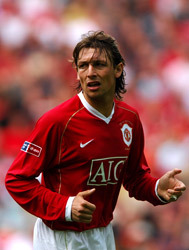 Will England beat Germany? Put your money where your mouth is and click here now
Gabriel Heinze is determined to leave Manchester United after the Premier League's decision not to allow him to quit Old Trafford for Liverpool.
A Premier League arbitration panel decided United were entitled to block Heinze's move to Liverpool, ruling the club were not obliged to sell him.
However, Argentinian defender is set to appeal against the verdict and insists he should be allowed to join the club of his choice.
He told the Daily Mail: "My fight is for the freedom to negotiate with any club.
"United never wanted me to leave for one of the big clubs but this anti-Liverpool clause is incredible."
Reports have linked Heinze with a move abroad but he claims he is in limbo.
"I still don't have a clear future.
"I have not spoken with Lyon because I believed my option was Liverpool.
"I would like a solution. Not playing would be negative for me and also the club."
Will England beat Germany? Put your money where your mouth is and click here now