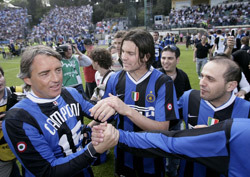 Compare football odds from over 25 bookmakers and claim £500+ in Free Bets. Click here for offer!
Shortly after clinching their second successive Scudetto, Internazionale confirmed that coach Roberto Mancini had signed a new contract.
Mancini's position had been in doubt, with a number of big names linked with a move to the Inter, but the club have now confirmed that Mancini has signed a four-year deal with an option for another 12 months.
"With Mancini there is nothing to deny, the wedding with the contract extension has already been done for a long time," president Massimo Moratti told Sky Italia.
Speaking after clinching the title with victory over Siena, Mancini paid tribute to his players and dedicated their success to the club's fans.
"It is an immense feeling because the squad played an exceptional season and to win with five rounds still to go is truly extraordinary," said the coach.
"The important thing was to win the title, even if we are a little tired at this stage of the campaign. I am very happy for all the fans. The team showed great character. I'm happy for all Inter fans," added 42-year-old.
"I have nothing in particular to say, other than to dedicate this Scudetto to all the Interisti and my family. Now it's time to party.
"Last year's title was important because of what happened before. It was a scudetto of justice," Mancini continued. "However, this one has been experienced through daily emotions, through difficult matches, and on the field."
Inter had finished third last season behind Juventus and Milan, but Juventus were stripped of the title and demoted to the second division with a nine-point penalty.
"I don't believe there'll be telephone intercepts on this scudetto," Mancini said.
"As coach you always try to win," said Mancini, who joined Inter from Lazio in 2004. "But sometimes you can lose due to a bit of bad luck, like in 2002, when (former coach) Hector Cuper's Inter deserved to win the scudetto. You need a bit of luck and a good team."
Captain Javier Zanetti underlined his happiness after picking up the trophy.
"It's a great emotion. I've awaited this moment for a long time," he said.
"We are Italian champions and we deserved this."
Marco Materazzi was delighted with his double in Inter's 2-1 victory over Siena.
"I feel that I am a very lucky person, having been decisive in the World Cup Final and the match that gave Inter the title. For this I want to thank all of my family," said the defender.
"To win the title on the field was an immense joy. I want to dedicate this victory to everyone who stood by me in the tough times."
Dejan Stankovic paid tribute to the Inter fans after they celebrated winning this season's Scudetto yesterday against Siena.
"I want to thank all the fans who believed along with us that this could come true," smiled the Inter midfielder.
"Now I expect to see a great party at the Stadio Meazza against Empoli. We can all come together and celebrate this Scudetto."
Compare football odds from over 25 bookmakers and claim £500+ in Free Bets. Click here for offer!